Sirman Commercial Food Prep & Cooking Equipment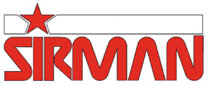 Creating a quality meal for your customers takes plenty of patience, skill and precision. However, that being said, it also needs you to use the right tools to keep things as professional as possible. At GoFoodservice, we are proud to work with some of the best names in the food preparation and food service industry. We work alongside top names, with one of the most impressive being Sirman.
Sirman is a big name within the industry, and has been producing a top standard of cooking equipment for close to five decades. It's this long lasting attention to quality and detail which ensures we come back time and time again: we believe that Sirman lives up to the standard of quality that we would expect. This is why, whether you are looking for a new meat grinder or meat chopper, you can make sure you can find quality waiting for you here. They also serve some very impressive tools that not many other companies offer today, such as produce choppers and sous vide immersion cookers. For that reason, we find that many of our customers love shopping with Sirman!
Faster Cooking with Sirman Food Prep Equipment
Part of what makes Sirman such a popular group to work with is the fact that they have such a fine variety to choose from. With tools like food processors and meat choppers, you can make it much easier and simpler to set in place clear standards for portion sizes and other such issues. This will also help you to get the assistance that you need to really take things that extra step further in terms of attention to detail. For example, we have many tools from Sirman such as food processors and sandwich grills, allowing for you to quickly and easily work through what would normally be a pretty arduous task.
If you are serious about making a significant change in your workplace, then it might be time to take a look at picking up some tools from Sirman. Without doubt, they make the conventional commercial cooking operations you undertake on a daily basis so much easier to succeed at. So, why not speed things up in the kitchen and make it a bit easier to handle some of the key aspects of modern food preparation in an instant?
Sirman Best Sellers
Sirman Categories