Seventh Generation Disinfectants & Cleaning Products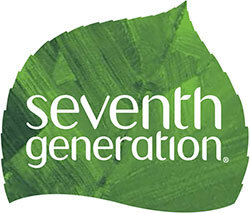 Seventh Generation is a line of environmentally friendly plant-based products designed to meet all of your cleaning needs. We carry Seventh Generation Dish Soap in Free & Clear Professional Dish Liquid and Free & Clear Professional Dishwasher Powder.
Seventh Generation dishwashing products cut through tough grease. Whether you're running a small cafe', using them in your home, or running a large commercial operation, these products will deliver quality cleaning every time. Our 25 Oz bottles of Free & Clear Professional Dish Liquid are available in a case of 12 bottles, and our 50 Oz bottles are available in a case of six bottles.
Need to cut through tough grease on stoves and countertops? Seventh Generation Free & Clear Professional All-Purpose Cleaner comes in a convenient bottle with a spray nozzle for even distribution. It works great to cut through tough grease and delivers a beautiful shine. You'll enjoy polishing your stoves, countertops, and workstations when you use Seventh Generation cleaning products. It even eliminates bacteria in the kitchen for a clean work environment.
Don't forget about the bathroom! Seventh Generation Professional Bathroom Cleaner & Disinfectant destroys germs without toxic chemicals that are harmful to the environment. You won't have to worry about noxious fumes with Seventh Generation disinfectant, and it leaves a fresh, clean scent— available in 32 oz or 1-gallon bottles.
For polishing bathroom mirrors and windows, we offer Seventh Generation Professional Glass & Surface Cleaner. Get your glass and windows streak-free; it also works great for polishing stainless steel in commercial kitchens. Bottles are available in a case of 8.
Seventh Generation Best Sellers








Seventh Generation Categories