Sani Professional Commercial Cleaning Supplies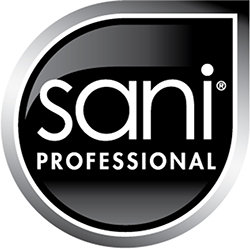 Sani Professional aims to make food safety and sanitation a simple task, optimized by their innovative designs. Sani Professional products are proudly made in the United States and their products consistently exceed industry standards and streamline commercial operations around the globe.
Their passion is found within their desire to prevent community-acquired diseases. Sani Professional genuinely cares about the health of customers and the community as a whole. It's this compassion that drives their innovative designs to have easy protocols without skimping on effectiveness.
In addition to their desire to promote better community health outcomes, Sani Professional also aims to achieve sustainability by creating products that keep environmental health in mind.
Environmental Mindfulness
In addition to utilizing fibers from renewable natural resources, Sani Professional products also:
Reduce energy use by 22%
Reduce CO2 emissions by 21% for each product
Produce 71% less landfill waste
Accessories and Innovative Packaging
Sani Professional offers a line of accessories so that your Sani Professional products are always easily accessible for employees and customers. Their products are also labeled in both English and Spanish, as well as color-coded packaging so employees can quickly distinguish between cleaning, sanitizing, and disinfecting products.
Multi-Industry Products
Sani Professional products are used across a vast array of industries to reduce the spread of bacteria.
Restaurants
Retail venues
Healthcare
Education
Events venues
Hospitality
Office spaces
Industrial applications
Residential buildings
Sani Professional products negate the need to mix harsh chemicals or haul around bulky equipment, making cleaning a breeze for everyone.
Sani Professional Best Sellers
Sani Professional Categories