Rex Coffee Artisan Roast Coffee Beans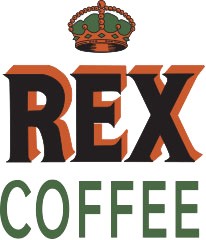 Established in 1885, Rex Coffee began when founder Herman Hulman sought to create higher quality coffee for his business. Once a green coffee bean supplier and roasting equipment was secured, Rex Coffee began selling coffee in the eastern United States from Chicago all the way down to Louisville and St. Louis.
Today, Rex Coffee operates their artisan roastery in one of the Unites States' most storied family businesses. By focusing on whole coffee bean offerings while roasting in small batches, Rex Coffee is able to deliver premium quality coffee beans that deliver truly exquisite flavors to their customers.
Best Sellers By Rex Coffee
12 oz Colombia Tolima Organic Light Roast Whole Bean Coffee (12/Case)
12 oz Peru Organic Light Roast Whole Bean Coffee (12/Case)
12 oz Double XX Medium Dark Roast Whole Bean Coffee (12/Case)
12 oz French Roast Whole Bean Coffee (12/Case)
12 oz Original Light Medium Roast Whole Bean Coffee (12/Case)
12 oz Decaf Original Light Medium Roast Whole Bean Coffee (12/Case)
5 Lb Decaf Original Light Medium Roast Whole Bean Coffee (2/pk)
2 Lb Decaf Original Light Medium Roast Whole Bean Coffee (4/Case)
Rex Coffee Categories