Penn Scale Commercial Scales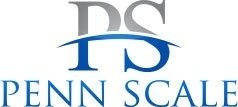 Penn Scale originated in Philadelphia, Pennsylvania in 1923, and that year set them on the course for complete innovation in the scale industry. Since their inception, the company has been designing weight scales and scale scoops, with products designed to last, and that offered skilled, precision weights each time. They also distribute other manufacturer's digital scales so they can meet any customer's needs. Their diverse product line has made them a favorite in the industry. Set a new measure of quality with Penn Scale products in your kitchen.
Penn Scale Baker Scales And Scoops
The quality of your baked goods depends on what type of ingredients you use, and the overall amount. baker scales from Penn Scale provide accuracy, and are reliable when it comes to cooking with the exact amount of ingredients.
Penn Scale offers a variety of sizes, and weight from 4 lbs to 16 lbs. Each scale includes the company's time-tested manufacturing processes, and technology. With Penn Scale, you're guaranteed to have the right efficiency, and overall quality.
Whether your business is requiring scales or scoops, we have exactly was is needed. At GoFoodservice, we strive to present industry leading brands like Penn Scale and, others at the most competitive prices available. Browse our selection from Penn Scale today!
Penn Scale Best Sellers
Penn Scale Categories