PAM Cooking Sprays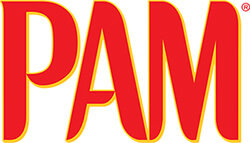 PAM is a trusted household brand preferred by millions around the world. After being introduced in 1959, PAM non-stick cooking spray became widely popular. The name is a shortened acronym for Product of Arthur Meyerhoff. The shortened version of PAM fits perfectly on every product and is much easier to remember.
The original non-stick formulas of PAM cooking spray make baking easier and have become a staple in households and businesses across the country. This wondrous canola oil spray doesn't add extra cholesterol, calories, or salt to food and is even low in saturated fat. PAM non-stick cooking spray is a superior alternative to using a spoonful of oil to prevent food from clinging to pots and pans. PAM cooking spray lets you grill, bake, saute, and more without having to worry about food sticking. Cleaning up after a dinner rush is so much easier with a can of PAM in your restaurant.
GoFoodservice offers an assortment of PAM cooking sprays to fit all of your foodservice business needs. Whether you want a classic PAM non-stick cooking spray or a non-aerosol version of the product, you can find the best PAM products here. We believe PAM products are a must-have in every restaurant. Browse our selection of PAM cooking spray and start making the job of cooking easier today!
If you have any questions about finding the best PAM non-stick cooking spray for your business, don't hesitate to contact us. We are here to help with all of your questions.
PAM Best Sellers
PAM Categories