Pacific Blue Janitorial Supplies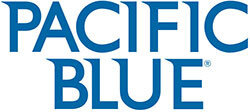 Pacific Blue commercial paper products are the perfect touch for your restrooms. Your diners' experience reaches beyond the food and beverages they enjoy while sitting at your table, relaxing at your bar, or mingling in your event facility. Instead, the full experience includes every detail starting from their arrival at your facility and only ending when they leave. Your commercial restrooms can make or break the experience. Make sure your customers feel respected, valued, and cared for throughout their visit to your operation. Pacific Blue commercial paper towels and toilet paper provide a thoughtful, reliable addition to your general ambiance.
In addition to improving your dining experience, Pacific Blue paper products can help your kitchen operate more efficiently. Touchless dispensers and refills allow you to streamline bathroom maintenance. Hands-free towel dispensers allow you to reduce the risk of cross-contamination, creating a safer environment for both customers and staff. Automatic dispensers are also proven to cut down on waste and surplus. By providing each diner with the appropriate amount of paper product, these dispensers save money and reduce excess usage. You can also lower your restroom maintenance costs. Touchless and hands-free dispensers cut down on the number of surfaces your diners touch. This reduces your cleaning requirements, allowing you to put your resources towards other goals.
Pacific Blue commercial toilet paper and toilet tissue are ideal for your facility's restrooms. Toilet paper is an essential item for every establishment. From the smallest diner to the largest convention center, every restaurant, bar, hotel, and event center needs to keep its restrooms well-stocked. Pacific Blue offers a range of toilet tissue to meet any need. Choose from 1-ply or 2-ply paper in rolls of either 1,000 feet or 2,000 feet. These jumbo rolls last longer than smaller amounts, so your restaurant can go longer between changing the rolls. GoFoodservice offers multipacks of Pacific Blue paper so you can always have backup rolls.
Pacific Blue commercial paper towels are ideal for restroom and cleaning use. You can explore a full range of paper towel products, including pleated paper towels in a variety of fold styles as well as rolled and perforated towels. Whether your restrooms use automatic paper towel dispensers, folded countertop towels, or mechanical dispensers, GoFoodservice offers refills for your set-up. We also supply perforated rolls that are ideal for kitchen and cleaning purposes.
Pacific Blue understands that responsible, sustainable practices are important to today's customers. You can find certified products that are sourced in eco-friendly manners. Some Pacific Blue commercial products can even help you qualify for LEED status. Get in touch to learn more about Pacific Blue's environmental promises, or anything else about this brand.
Pacific Blue Best Sellers
Pacific Blue Categories