Oak Street Commercial & Restaurant Furniture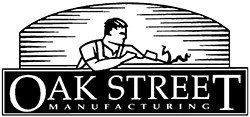 For anyone looking to add a touch of grandeur to their workplace, using high quality oak always looks good. Oak is a timeless design; the kind that can work well in nearly any particular kind of restaurant or hospitality venue. At GoFoodservice, we are proud to work with Oak Street Manufacturing, who are experts in the art of restaurant furnishing and have been since inception in 1995. It's this love of working with good companies which ensures we work with Oak Street Mfg on a regular basis. From Oak Street comfortable high chairs and Oak Street restaurant booth seating to Oak Street waitress stations and even Oak Street restaurant tables, they cover just about everything that you could need to make your business stand out for all the right reasons.
Improve aesthetics today with Oak Street Manufacturing Furniture
Oak Street Manufacturing's attention to detail and expertise when it comes to finding the right fit can be very impressive indeed. It's that eagle-eyed approach to finding the right collection, that we feel makes their products such a fine choice for any commercial kitchen enterprise. If you want to make a bar or restaurant area look homely and more welcoming, then a move to Oak Street Furniture would make a fine starting point. You will very quickly find that their rich range of furniture options mixed in with Oak Street's extensive solutions for high quality protection of everything installed, ensures you can work with a company that easily ensure your restaurant looks brilliant.
Don't settle for second best or cheap, poor quality furnishing. With the help of Oak Street Manufacturing Furniture, you can make it much easier to really put the right kind of imprint onto your place of work. Done right, this can lead to a major change in the way that you work – and will often go a long way to making sure you can get restaurant-standard fittings at excellent costing.
Oak Street Manufacturing Best Sellers








Oak Street Manufacturing Categories