MVP PPE - Personal Protective Equipment & Supplies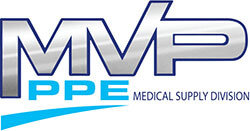 MVP Group has been making massive contributions to the health and safety of our society for the last six decades. Their contributions to sanitization and protection of foodservice workers and equipment have made them a global leader in their craft.
Their dedication to health and safety is rivaled only by their dedication to achieving an unparalleled customer experience. With 24-hour service 7 days per week, their attention to every customer's needs is unmatched.
MVP Group now brings you a full line of personal protective equipment and supplies for your business with their MVP PPE line-up! With a renewed focus on the importance of cleanliness and sanitation, MVP PPE now offers many essential items such as hand sanitizer and sanitizer dispensers. These items will help ensure employees and customers are preventing the spread of germs and viruses that linger on the skin and high-touch surfaces.
Whether you're shopping for a restaurant, hotel, school, institution, or any other public place where germs are commonly spread, MVP PPE has the tools you need to stay safe.
Some of their most popular products include:
Non-contact infrared thermometers
Soap dispensers and hand sanitizer dispensers
Lotion and lotion dispensers
80% alcohol hand sanitizer, FDA approved to kill 99.9% of germs
MVP PPE's products are gentle on the skin and allow for touchless sanitizing and moisturizing.
Browse our selection of MVP PPE by MVP Group items and stock up on sanitation essentials today!
MVP PPE Best Sellers
MVP PPE Categories