Mundial Kitchen Knives & Cutlery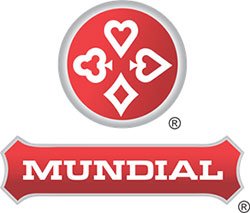 Established in 1931, Mundial is one of the top manufacturers of professional kitchen cutlery in the industry. Every Mundial blade is made with their own sophisticated techniques developed by their skilled teams of designers and engineers. To ensure customer satisfaction every knife produced by Mundial undergoes a rigorous quality control program that follows the knife from the steel it is made from all the way to the final polishing of the blade.
With their thorough testing Mundial is able to stand by the knives they produce and offer a lifetime guarantee against defects in the materials, workmanship, and construction. Browse our selection of Mundial cutlery and ensure your kitchen is stocked with quality knives for every task you need!

Best Sellers By Mundial
6" Stainless Steel Serrated Utility Knife w/ White Handle
Baker's Spatula, 10" Offset Blade, White Handle
6" Stainless Steel Curved Boning Knife w/ Black Handle
6" x 3" Stainless Steel Dough Scraper w/ Plastic Handle
3.25" Stainless Steel Paring Knife w/ White Handle (3/pk)
3.25" Mundial Stainless Steel Paring Knife (3/pk)
3.25" Stainless Steel Paring Knife w/ Purple Allergen Free Handle
10" Stainless Steel Serrated Slicing Knife w/ White Handle
Mundial Categories