Mundial Commercial Cutlery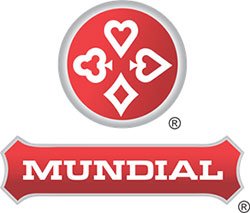 Established in 1931, Mundial is one of the top manufacturers of professional kitchen cutlery in the industry. Every Mundial blade is made with their own sophisticated techniques developed by their skilled teams of designers and engineers. To ensure customer satisfaction every knife produced by Mundial undergoes a rigorous quality control program that follows the knife from the steel it is made from all the way to the final polishing of the blade.
With their thorough testing, Mundial is able to stand by the knives they produce and offer a lifetime guarantee against defects in the materials, workmanship, and construction. Browse our selection of Mundial cutlery and ensure your kitchen is stocked with quality knives for every task you need!
Our Mundial Products and Availability
GoFoodservice has a comprehensive selection of Mundial knives, cleavers, pot and carving forks, pizza cutters, and bench scrapers. In short, everything your restaurant, catering service, or other hospitality business could require for their daily operations. Our current lineup of Mundial products includes:
Mundial Meat Slicing & Carving Knives
Mundial Bread & Sandwich Knives
Mundial Pot Forks & Carving Forks
Mundial Chef and Utility Knives
Mundial Boning & Fillet Knives
Mundial Pizza Cutters
Mundial Bowl Scrapers & Bench Scrapers
and much more!
GoFoodservice's Featured Mundial Products
The right tools are essential to any aspect of cooking, but this is especially true in the case of knives and cutlery. When it comes to quality, dependable blades, Mundial products are at the forefront of the industry due to their stringent attention to detail. Ensure the rights cuts, the right portions, and more aesthetically pleasing food presentations simply by giving your kitchen staff the right tools for any possible task. Serve perfect fillets of fish or break down large meats or vegetables within a matter of moments, all with the precision and ease of Mundial cutting tools. Outfitting your commercial kitchen with the right set of Mundial products is sure to eliminate the amount of time needed for both food preparation and serving.
More About Mundial – Top Foodservice Innovators
Mundial's North American marketing, sales, and distribution operations are headquartered in Foxboro, MA, with corporate offices located in Porto Alegre, Brazil. It is currently one of the top North American brands supplying cutlery and kitchen accessories to restaurants and other hospitality institutions. With deep roots and history, the company expertly combines old-world craft with cutting edge technology to create truly superior products, unmatched in durability, beauty, or value.
Mundial Best Sellers

10" Chef Knife w/ White Antimicrobial Handle
Out of Stock

4" Carbon Steel Spear Point Paring Knife w/ White Handle
Out of Stock

3 1/4" Carbon Steel Paring Knife w/ White Handle
Out of Stock

10" Carbon Steel Cimeter Knife w/ White Handle
Out of Stock

10" Carbon Steel Serrated Bread Knife w/ White Handle
Out of Stock

8" x 3" Stainless Steel Perforated Turner w/ Polypropylene Handle
Out of Stock

8" x 3" Stainless Steel Solid Turner w/ Polypropylene Handle
Out of Stock
Mundial Categories