Monarch Brands Commercial Bar & Restaurant Linens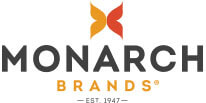 Established in 1947, Monarch Brands is a well-known manufacturer and wholesaler of commercial linens for the hospitality, bar, janitorial, and restaurant industries. Their aim is to deliver quality textiles at the value that businesses need. Monarch Brands' range of products include everyday bar towels, kitchen aprons, cloth napkins, guest towels, janitorial supplies, and much more!
Monarch Hotel And Spa Towels
Nothing says hotel luxury like a plush, fluffy towel. Monarch Brands' soft, ring-spun washcloths and towels are 100% cotton which means they're gentle on skin without skimping on absorption. These towels come in vibrant, trending hues that are as visually pleasing as they are comfortable.
Available towel colors:
Green
Navy
Brown
Burgundy
Black
Beige
White
Monarch Restaurant Linens And Supplies
Keep things neat and clean at your restaurant with the help of Monarch Brands' line of restaurant supplies. From behind the scenes in the kitchen to the frontlines of guests' tables, Monarch Brands' high-quality fabrics will keep everyone satisfied.
Aprons
Polyester waist aprons (red)
Polyester bib aprons (white or black)
Cloth Dinner Napkins
20"x20"
Polyester in white, red, or black
Cheesecloths
Bleached or unbleached
Manufactured in surgical gauze facility for cleanliness
Case quantities ranging from 4 to 100 square yards
Kitchen, Dish, And Bar Towels
Terry or cotton
Herringbone available in multiple colors available
Various sizes for clean up jobs of any size
Monarch Janitorial Supplies
No restaurant, hotel, or bar is complete until it's clean. Luckily, Monarch Brands' has these tools too! Their janitorial supplies are durable and significantly reduce the amount of chemicals needed to achieve cleaning goals.
Mop Supplies
Wheeled mop buckets and wringers
Dust mop pads and frames
Wet mops (horizontal and tube style)
Mop handles
Washable microfiber mop heads
Mop accessories
Microfiber Cloths And Mitts
16"x16"
Large color selection
Shiny glass and waffle textured clothes available
Reduces the amount of chemicals needed for cleaning
Can launder up to 500x
Lint-free
Monarch Brands has products you can trust to help you get the job done. Browse our selection of Monarch Brand products to find all the textiles and linens you need for your business today!
Monarch Brands Best Sellers
Monarch Brands Categories