Metro Foodservice Storage & Transportation Equipment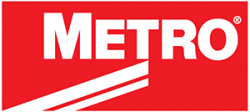 Metro also known as InterMetro specializes in storage and transport equipment for restaurants, healthcare, commercial and foodservice customers. The company's vast selection of shelving, workstations, carts and other essential elements for industry has a strong 80 year history. Metro is an industry leader that moves with the pace of business, developing solutions for you to maximize space, efficiency and productivity, yet meet safety standards. The focus and dedication of Metro makes them a trusted green provider across the world.
Work Tops and Tables
Metro commercial work tops and tables help you increase the space and efficiency of your staff in the kitchen, by providing solutions that work for you. Each table features stainless steel design, and InterMetro offers a full range of configurations for your needs in size and design. No matter the size of your commercial kitchen, a worktap and table from Metro allows you to add a new layer of counterspace and workspace in the kitchen.
Commercial Utility Carts
Metro features commercial utility carts that withstand any environment or condition, with rugged design that holds up to the elements. The full range of designs includes options available in stainless, chrome, and high-grade polymer builds, to carry as much or as little as you desire. With commercial utility carts in your kitchen, you can store anything efficiently. Metro adds a new layer of versatility to your kitchen that lets you do more, store more, and accomplish more.
Metro Best Sellers
Metro Categories