McCormick Herbs, Spices, & Seasonings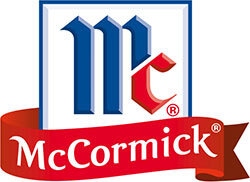 The McCormick brand has become a household name synonymous with quality seasonings, herbs, and spices. Dedicated to bringing out the best flavor from their products, McCormick spices put an emphasis on their quality of products from the source to the table which ensures only the best flavors and results.
McCormick herbs have grown beyond household pantries and into the realm of commercial cooking where they season dishes with superior quality and flavor profiles. Products like bayou Cajun seasoning, celery salt, and hamburger seasoning are just a few of the McCormick spices that customers can't get enough of! McCormick spices are often the secret ingredient that draws restaurant patrons back time and time again for those irresistible flavors they can't seem to get enough of.
McCormick is a global leader in the foodservice industry with its brand spanning 150 countries. Each of their workplaces has focused on celebrating diversity and promoting a work culture that they credit their success to. It's details like these that have empowered McCormick herbs to have a global reach far beyond the flavors of homecooked meals.
Browse our selection of McCormick products and stock up on all your favorite spices, herbs, and seasonings today!
McCormick Best Sellers
McCormick Categories