Marsal Pizza Ovens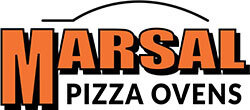 Marsal has been one of the highest quality manufacturers of restaurant equipment for over 50 years. Started in 1969 by Sal Ferrara, Marsal got its name from founders Mar and Sal and has remained a family-oriented business ever since. Marsal began revolutionizing the pizza oven industry with its MB series of pizza ovens. These innovative pizza ovens combined the ease of gas cooking and the efficiency of traditional brick pizza ovens.
With their innovation in pizza oven design, Marsal by Middleby gives you the crispiest, quickest, and most dependable bake in the industry with no downtime or need to rotate pies. Whether it's a traditional brick-lined oven or a modern electric deck oven, Marsal strives to always be the best. The Marsal name is trusted by some of the biggest brands in the world of pizza.
Browse our selection of Marsal pizza ovens to find the equipment you need to be the best pizzeria in town!
Marsal Pizza Deck Ovens
Marsal's pizza deck ovens combine the perfect balance of 21st-century technology with traditional pizza baking. Their innovative air chamber and burner design prevent hot spots and uneven surface temperatures, negating the need to rotate pies. The arched brick-lined ceilings on the MB models give you the taste of old-world pizza with the efficiency of modern technology.
Features include:
Gas or electric models available
Single, double, and triple deck options
Up to 2" thick cooking surface
Stainless steel construction
Thermostatically controlled from 300° - 650°F
Revolutionary design that reduces heat loss and transfer to the workstation
Marsal Countertop Pizza Ovens
Countertop pizza ovens are an excellent space-saving alternative to traditional style freestanding pizza ovens. Marsal's fine-tuned designs ensure that your pizzas cook to a perfect crisp, just like they would with traditional ovens.
Features include:
Double and quadruple deck options
Quick Heat Technology baking stones
Adjustable venting system for each deck
Constructed with stainless steel and aluminized steel
Marsal's pizza ovens come with an 18-month part and one-year labor warranty from the mfg.
Marsal Best Sellers
Marsal Categories