Lawry's Premium Seasoning and Spices by McCormick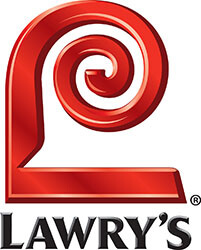 Lawry's by McCormick is a line of seasonings and spices highly revered by commercial kitchens and household chefs across the United States. Lawry's spices first emerged on the market as Lawry's seasoned salt in 1938 at a renowned restaurant in Beverly Hills. The Lawry's brand continued to gain popularity and hasn't slowed down since.
Lawry's herbs have expanded as they've developed new products such as spaghetti sauce seasoning, fry seasoning, lemon pepper seasoning, and so much more. Their attention to detail and dedication to developing new and exciting flavors makes Lawry's an unstoppable force in the foodservice industry. Many of their products can even be paired together to innovate new flavor profiles that diners love.
Today, Lawry's spices continue to be a well-known name under the McCormick brand. Their products are used everywhere from household kitchens to commercial restaurants and every foodservice establishment in between. Lawry's herbs and spices continue to highlight flavors in dishes from all culinary backgrounds and elevate their taste to new and exciting levels. The best things come in small packages and that couldn't be truer than it is with Lawry's spices.
Lawry's by McCormick Best Sellers

24 oz Perfect Blend Chicken & Poultry Rub Seasoning (6/case)

20 oz Salt-Free 17 Seasoning Blend (6/case)

16 oz Kosher Seasoned Salt (12/case)

2.9 oz Coarse Ground Garlic Powder w/ Parsley (12/case)
Out of Stock

20.5 oz Lemon Pepper Seasoning (6/case)

15 oz Sloppy Joe Seasoning Mix (6/case)

15 oz Ranch Flavor French Fry Seasoning (6/case)

10.3 oz Seasoned Pepper (6/case)
Lawry's by McCormick Categories