Lawry's Premium Seasoning and Spices by McCormick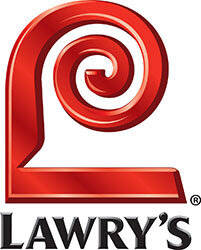 Bring your gourmet caterer and restaurant dishes to life with Lawry's seasonings by McCormick. Lawry's Seasoned Salt by McCormick is used by major food service establishments, including hotels and banquet halls, and is the signature seasoning used in Prime Rib restaurants established by Lawry's. That means it's been proven to deliver the perfect blend of herbs and spices needed to give your food the special flavor it needs. Lawry seasonings blended with special herbs add a dash of flavor to hospital food, and hotel food, and most caterers turn to
Lawry spices to liven up their special events and banquets. Use Lawry seasonings at your next catering or banquet hall function. Create your own special seasoning with any of Lawry seasonings, or pair special Lawry spices with one of your hotel or restaurant's favorite recipes to innovate something new for your menu.
GoFoodservice offers a variety of Lawry's seasoning blends: chicken and poultry rub, seasoning blend, seasoned pepper, seasoned salt, garlic powder with parsley, lemon pepper, sloppy joe seasoning, and ranch flavor french fry seasoning.
Shop our website for a variety of Lawry seasonings. You're bound to find the flavor(s) that fits your needs, regardless of your culinary background. Buy them in bulk, so you'll always have them when you need them.
Lawry's by McCormick Best Sellers
Lawry's by McCormick Categories