Keating Commercial Cooking Products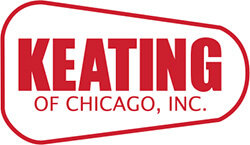 Keating of Chicago is a leading manufacturer of commercial cooking equipment such as fryers, griddles, food warmers, and more! All of Keating's equipment is built to last and many customers have had their equipment last for 80 or more years. See our line of Keating products including griddle release sheets and shop today at GoFoodservice!
Our Keating Products and Availability
GoFoodservice proudly offers Keating's top-quality grill and griddle release sheets to make your grilling operation much easier to maintain and keep clean. Don't spend hours scrubbing grease and grime that never seems to fully let up! With Keating's superior Teflon release sheets, cleanup is truly a breeze! And while purchasing this top brand, you can rest assured you're investing in durable products that are built to last!
GoFoodservice's Featured Keating Products
Grill and clean up smarter, not harder, with our durable Keating grill and griddle release sheets. These tough Teflon sheets help to maintain your grilling equipment in top shape. Cleanliness should be a top priority for any restaurant, café, or hospitality business, and investing in Keating's durable products saves you not only time but also money. That is why Keating's superior performance products help simplify your workflow while elevating your brand and business.
More About Keating – The Finest Commercial Cooking Equipment
Keating has been focused on bringing quality cooking equipment to commercial kitchens across the country for over 80 years. Started and based out of Chicago in 1931, the company remains a family-run operation to this day and continues to produce equipment that's built to last your business for decades to come. See for yourself why Keating has remained a trusted leader in grilling and cooking equipment and invest in the future success of your business operations!
Keating Best Sellers
Keating Categories