Iceberg Enterprises Products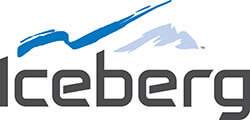 GoFoodservice is a preferred dealer for Iceberg Enterprises and offers a full lineup of table covers, chair covers, and other equipment and accessories to meet your catering needs. Whether you are looking for a single item or an array of products, our team can supply you with everything you need. When you partner with us as your Iceberg supplier, you will receive the quality customer support and product guarantees that you need and deserve as a busy caterer, restauranteur, or event planner.
Iceberg Enterprises provides commercial table covers for restaurants, hotels, hospitals, catering, banquet halls, and more! A wide variety of table covers allows you to turn ordinary folding tables into elegant backdrops for your special occasion. Whether you're looking for something understated and plain or a pattern that pops, Iceberg has a design that fits everyone's needs. Maybe you're perfecting the atmosphere at your new restaurant; maybe you're catering a wedding; maybe you're a hotelier and you need a quick solution to take your grand opening to the next level! The possibilities are endless when you've got Iceberg products at your fingertips.
Made from 90% polyester and 10% spandex, these table covers are both machine-washable and iron-safe. (So if you're planning a kid's birthday party, fear not!) We also offer both full coverage and open-sided designs.
Browse our selection of Iceberg Enterprises products and shop today! If you have any questions about these products or their availability, please contact us. We are more than happy to help you find exactly what you're looking for, and we won't quit until you are extremely satisfied with your purchase!
Iceberg Enterprises Best Sellers





Iceberg Enterprises Categories