Heinz Food Products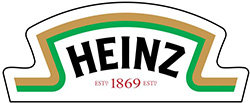 Bring America's #1 condiment brand to your restaurant or bar with Heinz products. With ketchup made from tomatoes homegrown in the USA Heinz ketchup delivers a taste that everyone loves. Heinz can provide all your condiment needs whether you need bulk #10 cans of ketchup, mustard and ketchup squeeze bottles, or portion ketchup and mustard packets for customers to use at the table. Heinz also has a variety of other essential condiments and sauces such as mayonnaise, BBQ sauce, and salad dressings so you can be sure to stay stocked up on all your condiment needs. With Heinz you know you'll be getting quality and taste you can trust so browse our variety of Heinz products and shop today
Our Heinz Products and Availability
GoFoodservice offers a selection of Heinz condiments to make your customers feel right at home at your business establishment. As any true condiment-lover knows, there's no replacement when it comes to Heinz ketchup or mustard. So don't fall for the imitation; elevate your brand and your food with the right Heinz condiments! Our current lineup of Heinz products includes:
Heinz Top Down Organic Ketchup Squeeze Bottles
Simply Heinz Top Down Organic Ketchup Squeeze Bottles
Heinz Ketchup Portion Packets
Simply Heinz Ketchup Portion Packets
Heinz Ketchup Mini Roomservice Bottles
Heinz Top Down Organic Yellow Mustard Squeeze Bottle
Heinz Dijon Mustard Mini Roomservice Bottle
Heinz Yellow Mustard Portion Packets
& many more!
GoFoodservice's Featured Heinz Products
You simply cannot do comfort food or Americana cuisine without the right condiments, and that means Heinz ketchup and mustard. From hamburgers to hotdogs, and fries, there's just no substitute for Heinz's original classic combination of flavors. Don't waste your time or money on any substitute. At GoFoodservice, we have a full selection of Heinz condiments to suit the needs of any operation. From sophisticated room service mini bottles to organic Simply Heinz portion packets, we have the right products to match the style and taste of your clientele. Get the largest selection of Heinz condiments right here!
More About Heinz – America's Favorite Condiments
Since its humble beginnings in 1869, Heinz has emerged as America's go-to brand when it comes to favorite condiments. Today, the name brand is synonymous with ketchup and has earned a spot on dinner tables across the country and the world at large. Despite the household status, Heinz continues to stay innovative within its industry and to look for more ways to improve the sustainability of their productions and the quality of their product.
Heinz Best Sellers
Heinz Categories