Grosfillex Outdoor Patio Furniture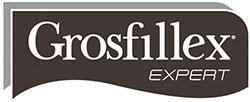 Grosfillex Is Your Outdoor Dining Partner
We pride ourselves on being your one-stop shop for all of your restaurant, catering, and hospitality needs. That's why we've chosen Grosfillex for our outdoor patio furniture selection.
Grofillex outdoor furniture is produced in three locations: France, Russia, and the USA. Their quality of workmanship and fresh ideas have kept them at the top of the food service industry.
We offer several styles of Grosfillex outdoor patio furniture sure to make poolside or outdoor dining a seamless and convenient event for your guests. Our outdoor table bases are a sturdy solution to an outdoor setup. You can choose from Y-leg pedestals, T-ends, resin crosses, and square bases, all with various color offerings.
Your Grosfillex outdoor restaurant furniture will be perfectly set with quality molded melamine tabletops in a wide selection of sizes, shapes, and colors.
And while shopping for Grosfillex outdoor patio furniture, don't forget you'll need to seat your guests. GoFoodservice carries so many options of Grosfillex outdoor furniture for you to choose from. You can complement your outdoor dining with resin chairs, booths, and benches, or even outdoor lounge chairs and sling chairs. Grosfillex outdoor patio furniture has such a wide selection that you need to start clicking to find the perfect outdoor seating to set the mood and comfort for
your customers.
We even carry Grosfillex side tables, outdoor table umbrellas, and bases. And to keep everything organized poolside, check out the Grsfillex towel caddy selection. You'll wonder how you ever got along without it.
When you need items for your outside dining area, stopping at GoFoodservice is the best choice. We feel confident offering the Grosfillex outdoor patio furniture line to give you the same quality we provide. And if you have any questions or can't find an item you need, don't hesitate to contact us!
Grosfillex Best Sellers
Grosfillex Categories