Great Western Concession Supplies & Accessories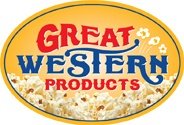 Some of the best memories of childhoods are the indulgent treats and snacks that we associate with birthday parties, carnivals, fairs, and amusement parks. Great Western has been an industry leader in concession foods for over 50 years and can help establish any business as one of those memory-making locations.
Although they started out with a focus on popcorn, they have grown and expanded in the last half-century to include other delicious foods, like snow cone syrups, floss sugars for cotton candy, seasonings for popcorn, batter mixes for corn dogs and funnel cakes, and candy apple mixes. And they don't stop there! They also have a cleaning and janitorial supply facility in Alabama and are a master distributor for most concession equipment manufacturers.
Providing products worldwide, Great Western is helping businesses make memories all over the world, including Canada, the Caribbean, Asia, Europe, and South America. They can help find the right solution for your business, whether it's with private label and branded products, including Premium America, Sunglo Popcorn, Frostee Slushie Mix, Frostee Snow Cones, Chillee Snow Cones, and Great Western Products Company. Let Great Western help you be the place families make their memories with their extensive line of food products and machinery.
Great Western Best Sellers
Great Western Categories