Georgia-Pacific Janitorial Supplies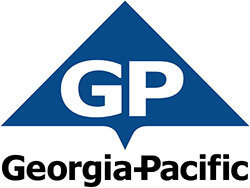 Georgia Pacific commercial products bring janitorial and restroom solutions to busy businesses. With a wide array of products and brands under their belt, Georgia Pacific can outfit and supply your business with all of the essentials you need including dispensers, disposable paper products, and much more! Georgia Pacific restroom products and janitorial supplies have been helping businesses promote good health and hygiene for decades, which has lent itself to Georgia Pacific becoming one of the most well-known brands in the commercial sanitation sector.
By designing controlled dispensing solutions, Georgia Pacific can help you reduce waste and save your budget while offering a sleek look that's coordinated with their products. From center pull paper towels, single-fold paper towels, C-fold paper towels, large toilet paper rolls, and dispensers for each, Georgia Pacific has it all when it comes to commercial bathroom products. Georgia Pacific's janitorial products are second to none. They're built with high-quality materials and have been proven tried and true by establishments around the nation. Chances are if you ever been in a public restroom, then you've seen and used Georgia Pacific commercial products.
Browse our line of Georgia Pacific restroom products and stock up on all your janitorial and restroom supplies today!
Georgia-Pacific Best Sellers
Georgia-Pacific Categories