Fama Industries Food Prep Equipment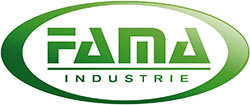 Fama is a top manufacturer of electric cheese graters, and GoFoodservice is proud to offer their high-quality products to our customers. With years of experience in the foodservice industry, Fama has built a reputation for producing reliable and efficient equipment that meets the needs of busy commercial kitchens.
Electric cheese graters are essential tools for any kitchen that serves pizzas, pasta dishes, or sandwiches. They allow you to quickly and easily shred large quantities of cheese, saving you time and effort compared to using manual graters. Fama's electric cheese graters are designed with durability and efficiency in mind, featuring sturdy construction and powerful motors that can handle even the toughest cheeses.
One of the standout features of Fama's electric cheese graters is their versatility. They can be used to grate a wide range of cheese types, from soft and crumbly to hard and dense. This makes them ideal for busy pizzerias, sandwich shops, and Italian restaurants that need to shred different types of cheese for their menu items.
In addition to their durability and versatility, Fama's electric cheese graters are also designed with safety in mind. They come equipped with safety features like interlocking switches and non-slip feet to prevent accidents in the kitchen.
At GoFoodservice, we offer Fama's electric cheese graters in a range of sizes and capacities to suit any kitchen's needs. Whether you need a compact grater for a small kitchen or a heavy-duty grater for a high-volume restaurant, we have the right product for you.
When you choose Fama's electric cheese graters from GoFoodservice, you can trust that you're getting a quality product that will provide reliable service for years to come. Our team is dedicated to providing excellent customer service and support, so if you have any questions or concerns about our products, don't hesitate to reach out to us.
Fama Best Sellers
Fama Categories