Essentialware Foodservice Supplies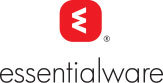 When operating in a kitchen, it's easy for you to get all of the big things right for each discipline. Investing in ovens and other commercial cooking equipment does make a lot of sense for you. However, what you will soon find is that the little extras – oven gloves and mitts, release sheets, belt wraps, baskets, and trays – all matter just as much. What use is an oven if you have no means of getting those piping hot goods out of the oven without hurting yourself?
For that reason, we recommend that you took a look at our fine range of options from the excellent Essentialware. They are known for creating high standard equipment, mostly coated with tools like PTFE and/or silicone coating to help make sure that the products can be used in a commercial environment without any risks to your quality of life. With these high-performance solutions, you can easily make the kitchen a much safer and more harmonious place to work. Many times, it's the little key items sold by Essentialware that can turn a challenging experience into one which flows with much more freedom overall.
Make Kitchen Life Far Less Stressful with the Help of Essentialware
As their name implies, Essentialware is a company that makes many must-have kitchen tools. They will ensure that you can get everything from grill release sheets to oven liners, all helping to keep the place cleaner, healthier, and happier overall. The less work that your staff needs to do just to get their job done, the better. Useful tools from Essentialware will soon vastly reduce the challenges of what you do, making it much easier for you to really improve upon the quality of your overall working conditions.
Your staff will be able to produce their best when you give them the equipment to make sure that they can carry out every task. If you wish to make your own life a bit easier, then you should look to pick up the tools that we carry here. With GoFoodservice¸ we make it easy for you to keep the kitchen a safe and happy workplace. Don't let your staff become angry or frustrated at the working conditions or tools they have to operate with: get them the best equipment, courtesy of our Essentialware high-performance textile solutions!
Essentialware Best Sellers
Essentialware Categories