Enozo Commercial Ice Sanitization Products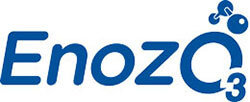 Enozo is a leader in creating innovative cleaning solutions using advanced ozone technology. With their EcO3Ice technology, Enozo has revolutionized the approach to ice machine cleaning and maintenance.
EcO3Ice technology generates a small amount of ozone, which helps to slow the growth of biofilm, mold, and yeast colonies in your ice machine. This makes your ice machine cleaner, safer, and more efficient, while also reducing the need for harsh chemicals and costly maintenance.
Enozo products are designed with simplicity and ease of use in mind. Simply have your plumber connect the easy-to-install Eco3Ice Sanitation System to your ice machine and let the ozone do the work. When it's ready to change the cartridge, you can do it yourself with ease. Enozo products are also eco-friendly, as they use only water and air to create ozone, which helps reduce or eliminate the need for chemical cleaners.
Our team at GoFoodservice is dedicated to providing excellent customer service and is happy to help with any questions or concerns you may have about Enozo products. Shop with us today to experience the innovative technology and benefits of Enozo.
Enozo Best Sellers
Enozo Categories