Edlund Kitchen Equipment Products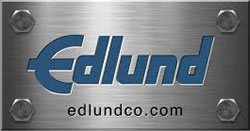 Edlund has been redefining innovation in the commercial kitchen equipment industry for nearly 100 years. With kitchen and portion scales that have won best in class 14 times, you can trust that you're getting the quality kitchen equipment you need.
In order to keep up with today's operations and take them to the next level, Edlund manufactures a wide variety of kitchen prep equipment and smallwares including meat slicers, vegetable cutters, can openers, and knife sharpeners that have been repeatedly recognized for their excellent design. Their manufacturing facilities are located in Vermont with distribution centers in the United States, Belgium, and Hong Kong. Their vast product line and strategically located facilities lend themselves to Edlund's long term success and global reach.
Edlund Scales
Edlunds most renowned products are their kitchen scales. Their scales come in a vast array of sizes and functionality, making Edlund kitchen scales the perfect addition to any commercial kitchen.
Portion scales

Digital or dial
Heavy-duty and waterproof models available
10 to 30 lbs capacity
Metric or imperial measurements
Optional bowl, ice cream, or fry weighing attachments

Baker's dough scales

Stainless steel for quick clean up
8 to 16 lbs capacity
Counterweight models available

Digital pizza scales

10 to 20 lbs capacity
Stainless steel
Reads in pounds, ounces, or grams
Easily accessible tare buttons

Receiving scales

25 to 300 lbs capacity
Stainless steel for easy sanitation
Fixed dial or digital
Edlund Knives and Cutlery Equipment
Edlund's award-winning knives and equipment have earned them the reputation of being an industry leader. Their foodservice equipment will keep your restaurant or hotel kitchen running at peak operation.
Two-step knife sharpeners
Knife grinding wheels
Knife rack sanitizing systems
UV knife sterilizing cabinets
In addition to their innovative product line, Edlund stands behind its products with a one year warranty on their foodservice equipment.
Edlund Best Sellers
Edlund Categories