Dole Food Products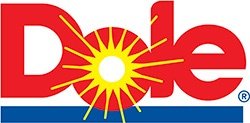 Dole Packaged Foods provides customers a brighter day with each of their products. A world leader in the fruit growing and distribution industry, Dole Packaged Foods has an unwavering commitment to quality assurance, food safety, traceability, environmental responsibility, and social accountability to meet all of their customers' needs.
Dole food products are conscious of nutrition and better for your health than many other snacks. Their motto says it all:
"...we believe good, healthy, affordable, and delicious foods should be more like sunshine. Everywhere, and for all."
It's this goal of promoting global health at affordable prices that has made Dole a popular name among households and commercial foodservice establishments for decades.
Sweet Treats That You Can Feel Good About
It's well known that Dole has a vast line of sweet treats that taste great, but did you know that customers can also feel good about eating them? One of our most popular Dole product categories is their line of soft serve mixes that entice customers with irresistible flavors like strawberry, mango, pineapple, cherry, and orange. All of Dole's soft serve flavors will instantly transport customers to the tropics with just one bite!
In addition to being simply irresistible, Dole products require little prep and their soft serve is non-dairy and gluten-free. If you need another reason to love Dole, their soft serve mixes can be stored at room temperature which saves you exponential costs in cooling and cold storage space.
Browse our assortment of Dole Packaged Foods products, including soft serve mix and other fruit goods. Shop our selection today to bring some of Dole's sunshine to your business!
Dole Best Sellers

Dole D542-A6120
4 1/2 Lb. Non-Dairy Strawberry Soft Serve Ice Cream Mix Bag (4/case)

Dole D571-A6120
4 1/2 Lb. Non-Dairy Cherry Soft Serve Ice Cream Mix Bag (4/case)

Dole D531-A6120
4 1/2 Lb. Non-Dairy Orange Soft Serve Ice Cream Mix Bag (4/case)
Out of Stock

Dole D581-A6120
4 1/2 Lb. Non-Dairy Pineapple Soft Serve Ice Cream Mix Bag (4/case)

Dole D586-A6120
4 1/2 Lb. Non-Dairy Lime Soft Serve Ice Cream Mix Bag (4/case)

Dole D551-A6120
4 1/2 Lb. Non-Dairy Raspberry Soft Serve Ice Cream Mix Bag (4/case)

Dole D561-A6120
4 1/2 Lb. Non-Dairy Mango Soft Serve Ice Cream Mix Bag (4/case)
Dole Categories