Diamond Crystal Salt Products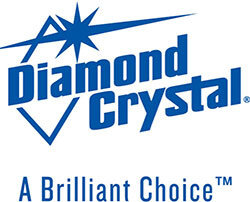 Since 1886, Diamond Crystal has been providing products for businesses and consumers alike to enhance food dishes and more! Diamond Crystal might be best known for their brilliant salt, but there's so much more to one of America's favorite brands. In addition to Diamond Crystal salt, there's also Diamond Crystal herbs and of course pepper, because salt and pepper go together like Diamond Crystal and restaurant success!
Diamond Crystal herbs can not only help you season your food to perfection, but Diamond Crystal salt can also help enhance safety, prolong the life of your appliances, and act as a health and beauty aid! Does it sound too good to believe? Believe it! Diamond Crystal really has multifunctional products that can help consumers in more ways than one! Safety should always be your first priority and it's easy to do in the winter months with Diamond Crystal's line of ice melt. Not just that, but Diamond Crystal's solar salt helps extend the life of appliances, pipes, and fixtures, plus it works hard to keep laundry and hair soft and bright. Plus, their patented two-handle bags make lifting and carrying easy and help you spare backs from strains and pulls.
Browse our selection of Diamond Crystal pepper, salt, and other Diamond Crystal products and stock up on essential seasoning and safety supplies for your foodservice establishment today.
Diamond Crystal Best Sellers




Diamond Crystal Categories