Dawn Professional Products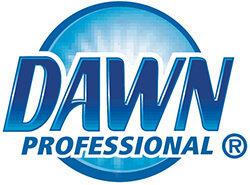 Dawn Professional Soap is prepared to handle the tough demands of a commercial kitchen. Dawn Professional Heavy Duty Multi-Surface Degreaser will remove grease from countertops, stoves, trays, and workstations. P&G Professional's Manual Pot & Pan detergent is available in original and lemon-scented. We sell Dawn commercial soap in one-gallon containers to keep up with the high demand of restaurants. Dawn degreasers can handle any job, from tough spaghetti stains to broiling pans; there's no job too big!
Does your restaurant struggle with pots and pans not coming clean? Dawn detergent will leave your dishes squeaky clean every time. Unlike other soaps, Dawn professional soap only takes a small amount to do a large volume of dishes. Not only can you wash dishes with Dawn, but it's also great for washing countertops.
Do your floormats get caked with grease? Dawn Professional Heavy Duty Multi-Surface Degreaser can tackle any grease! Floor mats will look new again.
Do you have thick grease residue around your stove burners? Dawn Professional Power Dissolver and Degreaser will tackle that, no problem. You've never met a degreaser like Dawn. Simply spray the professional degreaser, let it soak, and wipe it off. Your stove will sparkle like new. It's great for shining the front of stainless-steel cabinets and your commercial refrigerators' handles where grease and dirt build up.
Have food equipment like fryers with heavy grease build-up? Dawn Professional Food Equipment Cleaners, Descalers, & Degreasers will have your equipment shining like new again!
Bring new life to your commercial kitchen with Dawn Commercial Soap and Degreasers today!
Dawn Professional Best Sellers
Dawn Professional Categories