Dan-O's Seasoning Products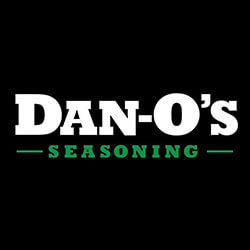 Many self-proclaimed meat lovers and purists claim that salt and pepper are all you need to 'season' good meat. But by only using salt and pepper, you are really going to miss out on so many great flavors you can find from a good seasoning such a Dan-O's!
Dan-O's seasoning is not just good seasoning. It's the ONLY seasoning you'll ever need. After one try of it, you'll be saying, "Put Some Dan-O's On It! And GoFoodservice restaurant equipment and supplies has it in-stock for you. Its all-natural and low in sodium. Many seasonings you find in stores, restaurants, and online contain nasty additives, GMO's, copious amounts of sodium, and even chemicals. But not Dan-O's. In fact, Dan-O's Seasonings have only 50mg of sodium per suggested serving. These other additives make your meats taste too salty and ruin that nice cut of meat you bought. Dan-O's doesn't do that, because it's 'Dantastic!'
Oh, and they are also gluten-free, contain no MSG, and no sugar. One of the greatest factors about their seasoning, apart from the obvious taste, is that it's doctor friendly. It's good not only for diets, but for folks with, or at risk, of high blood pressure, heart disease, or diabetes because of its low sodium and containing zero sugar. There isn't a seasoning on the market that tastes like Dan-O's Seasoning and still keeps your health in mind. This is exactly how a seasoning should be made. Good seasoning without the BS. It's Dan-O-Myte!
Created by Dan Oliver in Louisville, Kentucky, Dan knew what to look for in good seasonings in his time as a cook and bartender. One day he created his own seasoning for a roasted chicken that was so loved, many people urged him to sell his awesome concoction of flavor. Through a painstaking process of striking the right balance with spices and other flavors, Dan created Dan-O's Seasoning that took the industry by storm.
Now Go!Foodservice has it in stock and ready for you to sprinkle (or smother!) on your meats. Available in 3.5oz or 20oz sizes, your next meat experience will be sure to keep your customers' mouths watering and demanding more. Use Dan-O's Original Seasoning on Chicken, Fish, Steak, Seafood, and Pork - whatever! Its unique balance of spices, garlic, sea salt, onion, parsley, lemon and orange peels, and cayenne pepper will really open up some flavors for you. And it's not just great on meat and fish. You can try Dan-O's original seasoning on other foods like popcorn, eggs, fresh vegetables, cottage cheese, and potatoes in any form!
If you feel more adventurous or simply love a bit of spice in your mouth, Dan-O's Spicy Seasoning will scratch that itch for you. Use it on anything like Dan-O's Original Seasoning, but the Spicy Seasoning works really well on pizzas, pasta dishes, and french fries too! Dan-O's Seasonings won't expire and won't get clumpy over time, but after trying Dan-O's they probably wouldn't even have the time to even get clumpy!
Big, bold flavors lie ahead for your kitchen. GoFoodservice has what your establishment needs when it comes to Dan-O's Seasoning.
Stock up today!