Comet Professional Products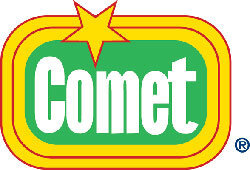 With a quality product line of bathroom cleaners that can easily cut through soap scum and hard water stains that plague every bathroom, Comet Cleaning Supplies can help you save valuable time and labor when cleaning, and help leave your bathrooms sparkling clean. Proctor and Gamble's stain-fighting formulas are able to cut through greasy scum with up to 50% fewer strokes than comparable cleaning products. Many Comet cleaning products can also be used in the kitchen to cut through grease and other soils to effectively clean range hoods, countertops, tables, cutting boards, and more! Browse our selection of Comet cleaners & Comet cleaning supplies and get your bathroom looking like new again!
Comet Products and Availability
GoFoodservice offers one of the largest selections of Comet cleaners and Comet cleaning products for a variety of businesses. We offer Comet cleaning supplies such as:
Comet All-Purpose Cleaners
Comet Air Fresheners
Comet Cleaning Products
Comet Cleaning Supplies
& more!
Featured Comet Products
32 oz. Comet Disinfecting Sanitizing Bathroom Cleaner
This Comet cleaner uses a combination of disinfecting and sanitizing non-abrasive formula to effectively clean porcelain, fiberglass, ceramic, formica, enamel, chrome, stainless steel, synthetic marble, and more! With a patented formula that uniquely penetrates tough bathroom grime and stains, this Comet Disinfecting and Sanitizer cleaner can help leave your bathroom or restrooms smelling clean and fresh.
32 oz. Comet Crème Deodorizing Cleanser
Shop Comet cleaning products like this crème deodorizing cleanser to easily and effectively remove malodors from various surfaces. This crème deodorizing cleanser is a liquid chlorinated cleanser that contains a soft abrasive that scours and cleans the toughest of messes. This Comet crème deodorizing cleaner is recommended for use on toilet bowls, urinals, sinks, wall tiles, chrome, stainless steel, stovetops, ranges, and plastic containers.
1 Gallon Disinfecting Bathroom Cleaner w/ Bleach
Stock up on Comet cleaning supplies for your business with this 1-gallon disinfecting bathroom cleaner w/ bleach. This unique 2-in-1 all-purpose cleaner combines the power of heavy-duty detergents with the stain removal power of bleach! Able to disinfect surfaces in 60 seconds to disinfect against Hep A, Hep C, Coronavirus, Norovirus, and other microorganisms. This Comet disinfecting bathroom cleaner uses a non-abrasive formula that works great on toilets, urinals, sinks, hard water stains, mold and mildew, dirt, grease stains, and more!
If you're looking for quality bathroom cleaning supplies and disinfectants from one of the industry's top brands, GoFoodservice can provide you with Comet cleaners and Comet cleaning products for your restaurant, bar, banquet hall, caterer, or other business. If there are any Comet cleaning supplies that you are unable to find, please contact us and we will be happy to help.
Comet Best Sellers
Comet Categories