Chef Revival Chef Apparel & Accessories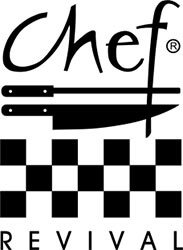 Chef Revival can help elevate your culinary excellence with premium chef apparel and kitchen textiles. Specializing in providing high-quality culinary apparel and kitchen accessories for professional chefs and kitchen staff they offer a range of products designed to meet the specific needs of chefs and other kitchen professionals, including chef coats, aprons, pants, headwear, and various kitchen accessories.
A chef's uniform is not just a symbol of their profession; it's a reflection of their commitment to the culinary craft. Chef Revival's chef apparel is crafted with meticulous attention to detail, using high-quality materials and ergonomic designs that ensure comfort and durability, giving your staff a truly professional appearance that customers will take note of.
Chef Revival's culinary apparel blends form and function to ensure staff remains comfortable during long, demanding shifts in the kitchen while resisting stains and odors as well as wicking moisture away from the body. Chef Revival clothing is designed to move with you, providing flexibility and freedom of movement essential for working in a busy kitchen.
In addition to its premium apparel, Chef Revival also provides a variety of essential kitchen accessories that cater to the unique needs of culinary professionals. From oven mitts and pot holders to kitchen towels and neckerchiefs, their accessories are designed to enhance safety, hygiene, and efficiency in the kitchen.
By delivering quality and durability, comfort and functionality, variety and style, safety and hygiene, and all-around customer satisfaction Chef Revival stands as a reliable source for chef attire and kitchen textiles for culinary professionals. When you choose Chef Revival, you're choosing a brand that understands and respects the dedication, passion, and creativity that every culinary professional brings to the table.
Discover how Chef Revival's premium kitchen apparel and accessories have been elevating the art of cooking for professionals and enthusiasts alike here at GoFoodservice!
Chef Revival Best Sellers
Chef Revival Categories