AJM Packaging Corp Products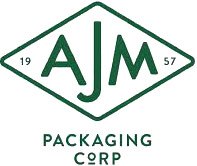 Founded in Detroit, Michigan, the AJM Packaging Corporation has grown into a leading manufacturer of many paper products in the United States including paper bags, plates, bowls, and cups. Many of their products can be found in leading retailers across the USA. They're made at one of their seven strategically-placed plants located right here in the United States. With over 60 years of manufacturing experience under their belt, AJM Packaging Corporation delivers reliable service and quality with each one of their products.
A Commitment To Sustainability
As they look towards the future, AJM Packaging has a commitment to the health and well-being of the world around us. All of their paper products are made of 100% renewable materials from sustainably managed forests. They're proud to showcase their well-earned certifications from the Sustainable Forestry Initiative and the Forest Stewardship Council.
Products You Can Rely On And Feel Good About
AJM Packaging's 100% renewable materials are gentle on the environment but tough when it comes to getting to work. Their heavy-duty paper plates and heavy duty paper bags can withstand the pressures of messy meals and heavy grocery trips. Convenient handles on select paper bags and raised edges on paper plates prevent spills, giving you peace of mind and guilt-free shopping and dining. A variety of sizes, shapes, and styles gives customers the ability to choose the paper products that will be the best fit for their business. Additionally, buying these items in bulk means that you spend just pennies per piece, making your budget as happy as your customers will be when they use products from AJM Packaging.
AJM Best Sellers


AJM HS70NP3C
1/6 BBL 70# Brown Narrow Base Grocery Paper Sack w/ Handles (300/Case)

AJM GS75NP4C
1/6 BBL 75# Brown Narrow Base Grocery Paper Sack (400/case)

AJM SQ50NP5C25HD
25# Squat 50BW Brown Narrow Base Heavy Duty Grocery Paper Bag (500/case)



AJM SS57NP5C
1/8 BBL 57# Brown Narrow Base Grocery Paper Sack (500/case)

AJM Categories