Advance Tabco Stainless Steel Equipment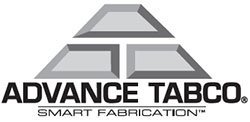 Advance Tabco has set themselves apart in the foodservice industry for their stainless steel fabrication and commercial restaurant equipment. Advance Tabco offers commercial sinks, work tables, shelving, and other kitchen equipment that will stand up to the daily demands of your business, no matter the scale of your company. The durability and stylish design of Advance Tabco's sinks and equipment will help you handle any task, whether it be organization, washing, or preparation. Let your kitchen have the efficiency it deserves with Advance Tabco sinks and commercial restaurant equipment.
Advance Tabco Undermount Sinks
The crafting of their stainless steel means Advance Tabco undermount sinks fit perfectly in any kitchen, with several gauges and sizes to clean anything you need. The seamless bowl design ensures that any of Advance Tabco's sink options will match the layout of your kitchen, while the sound deadening pads keep noise to a minimum.
Tabco Compartment Sinks
Advance Tabco compartment sinks provide an ideal place for you to do warewashing in your kitchen. Tabco's compartment sinks are designed to withstand all of the rigors of a busy kitchen with a variety of sizes and configurations. Advance Tabco 1 Compartment Sinks are ideal for smaller kitchens and food trucks that need to save on space but want the look and efficiency of a full-size kitchen. For larger commercial kitchens, Tabco's 2 Compartment Kitchen Sinks and bigger are perfect for multi-step cleaning and maximum efficiency.
Quality crafting from Advance Tabco's master fabricators let you have a beautiful piece that looks great and performs well in your kitchen.
Best Sellers By Advance Tabco
Hand Sink w/ Hands Free Knee Valve Splash Mount Faucet
Hand Sink w/ Splash Mount Faucet, Towel & Soap Dispenser
91" Three Compartment Sink w/ 2 Drainboards, Super Saver
Splash Mount Swivel Nozzle Faucet w/ 14" Spout & 8" Centers
Splash Mount Swivel Nozzle Faucet w/ 12" Spout & 8" Centers
Splash Mount Gooseneck Nozzle Faucet w/ 8" Spout & 4" Centers
1 Compartment Stainless Steel Drop-In Sink

Floor Mop Sink, 21" x 25" x 16"
Advance Tabco Categories