Delicious Traditional Hanukkah Recipes To Try This Holiday Season!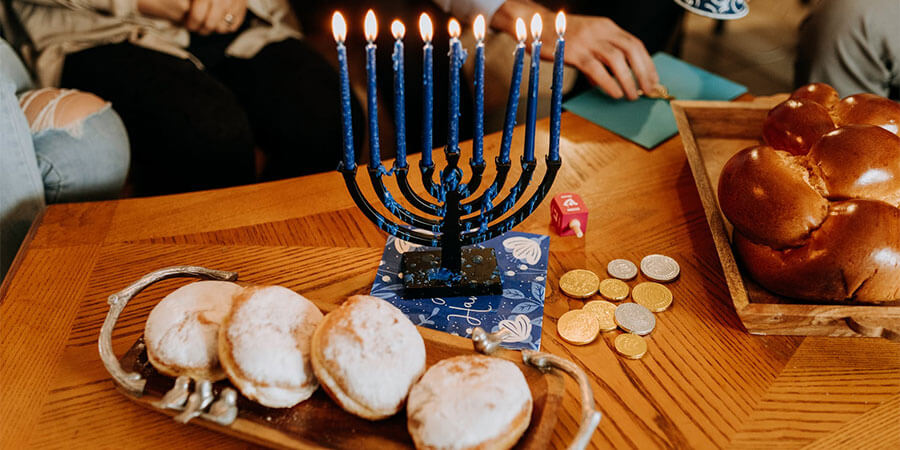 You don't have to be Jewish to enjoy these traditional Hanukkah recipes.
No matter where you are from or what you believe, it is always nice to try new foods and learn about the traditions of other people. So, mix up your routine this holiday season and try a traditional Hanukkah dish!
Hanukkah is a Jewish celebration to commemorate the rededication of the Second Temple in Jerusalem. As the legend goes, the oppressed Jewish people rose up against their Greek-Syrian oppressors in the Maccabean Revolution. They were blessed with a miracle when their low supply of oil burned for eight nights. The light was able to help guide them during their revolution, thus Hanukkah is also known as the Festival of Lights to pay tribute to this miracle.
Hanukkah starts on the 25th of the Jewish month Kislev or the 9th month of the Jewish year which occurs in November/December. Hanukkah 2020 begins on the evening of Thursday, December 10th, and ends on Friday, December 18th.
During this time, friends and family come together to light a candle on their Menorah for each of the nights of Hanukkah until the 8th night when all 8 candles have been kindled. It is also a tradition to give gifts and money to children every night of Hanukkah before the Jewish children play together spinning their dreidels.
The celebration of Hanukkah means you have eight wonderful nights to create some delectable dishes. From savory snacks to irresistible sweets, there is a traditional recipe to please even the pickiest of eaters. People of all belief systems can try something different and enjoy any one of these traditional Hanukkah recipes this holiday season!
5 Irresistible Traditional Hanukkah Recipes
Nothing can compare to a home-cooked meal. These traditional Hanukkah recipes have survived over the years because they are delicious. So, try out any one of these delectable specialties to impress your family as you bring to life a part of your heritage this holiday season.
1. Horseradish Brisket With Carrots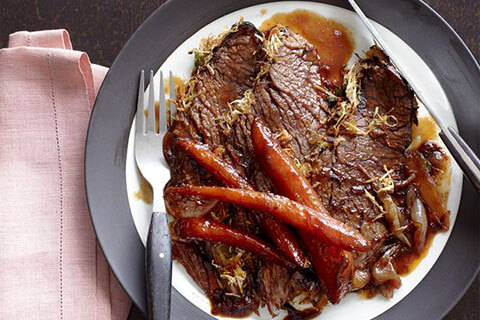 Can you even celebrate Hanukkah without brisket? This melt-in-your-mouth dinner is a wonderful and easy way to bring your family together to celebrate the Festival of Lights. With very little prep time, you can spend less time in the kitchen and more time enjoying the company of loved ones.
As a bonus, this traditional recipe can be transformed into delicious brisket sandwiches for lunch the next day. Send some home in a to-go container with your family. They will be thanking you when they enjoy the tender meat again!
2. Chard And Caramelized Shallot Noodle Kugel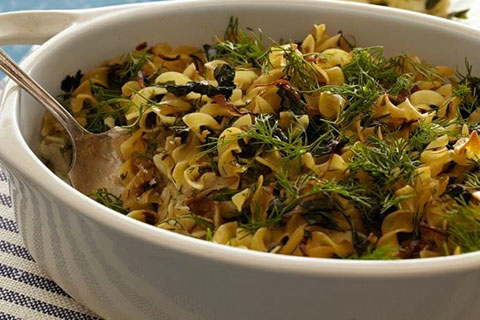 Kugel is a well-known dish in the Jewish community. You probably have some fond memories of your bubbe dishing up some hearty kugel for dinner. Try this spin on a traditional kugel by adding chard and caramelized shallots. The extra flavors add a new depth to this much-loved meal. It will make Hanukkah even more memorable this year!
Browse some of our tableware supplies to find the perfect supplies for serving all of your traditional Hanukkah recipes.
3. Leek Latkes (Potato Pancakes)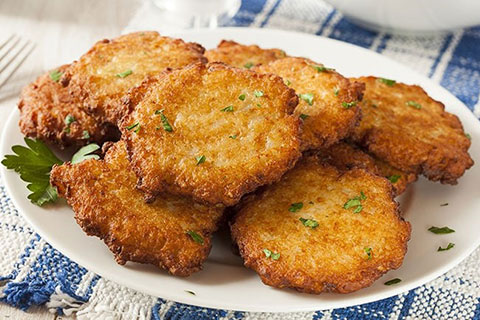 Latkes are a special part of Hanukkah. This traditional recipe is fried to commemorate the oil that burned for eight days during the Maccabean Revolution. Preparing them is a way to honor your Jewish heritage and celebrate the sacrifices of your ancestors.
This classic latke recipe is fail-proof. You will want to use it next year too. Using a food processor helps immensely. You can find some heavy-duty kitchen equipment here if you are in need.
4. Hanukkah Sufganiyot (Traditional Stuffed Jelly Doughnuts)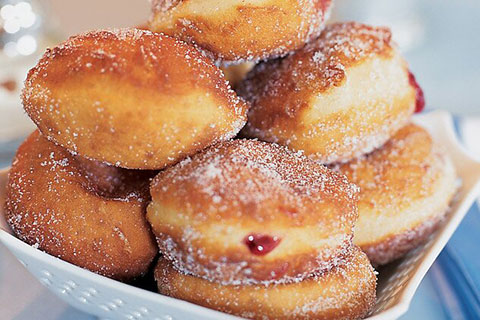 These deep-fried fluffy treats are another traditional Hanukkah dish to honor the miraculous eight-day oil burning. They are a little time-consuming to make. Be sure to plan ahead, so you are not rushed. Making sufganiyot together as a family is a wonderful way to spend some quality time together this Hanukkah. You can even fill them with your favorite jam to bring more flavor to these holiday favorites.
Browse some of our kitchen smallwares for any tools you might need to help make these desserts.
5. Honey Wheat Raisin Challah (Pareve)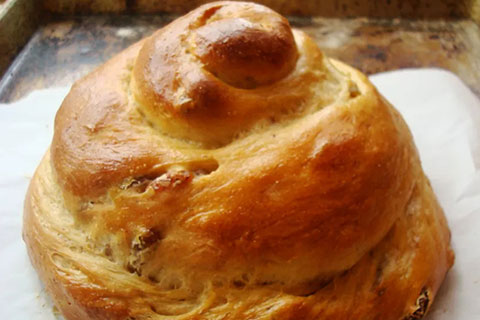 Challah is a traditional Jewish recipe usually baked for Rosh Hashana, but you can enjoy this delicious bread at Hanukkah too! This take on the traditional recipe uses honey and whole wheat flour to add more sweetness and texture to challah. Slice it up and enjoy at your Hanukkah celebration this year!
Bring Some Flavor To Hanukkah This Year!
Hanukkah is a special time for all Jewish families. These traditional recipes are the perfect way to honor your heritage and fill some bellies with delicious dishes. Even if you aren't Jewish, you can make one of these yummy recipes for your holiday party. No matter what your belief system is, everyone can bond over some delicious traditional Hanukkah food this holiday season!
From the team at GoFoodservice, we wish you a Happy Hanukkah!
Share This!