The Fast Food Industry is Dominating all other Restaurants in America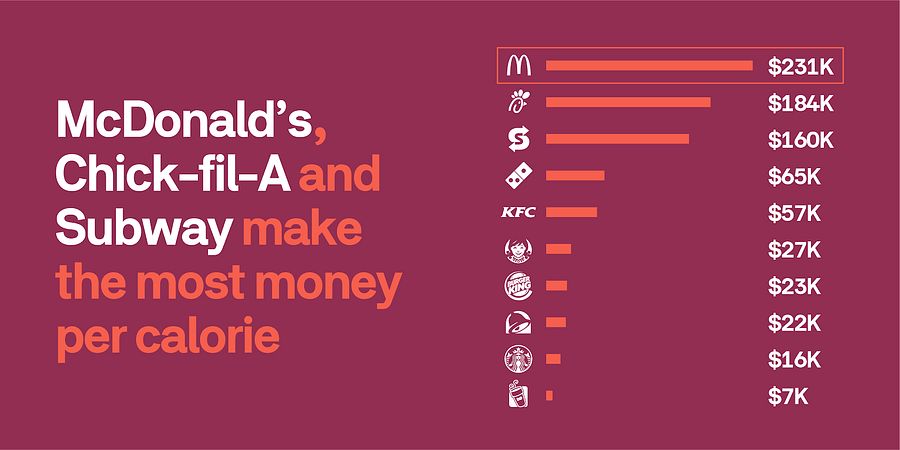 When it comes to high-profit margins, fast food doesn't typically come to mind. Although it is notorious for having low prices per meal, the overall profit that the industry brings in is actually extremely high. In fact, their margins are higher than most other types of restaurants. Fast-food chains have transitioned from a quick pit-stop shop into global franchises with significantly recognizable logos. For people in the United States specifically, getting a Chick-Fil-A sandwich serves as a familiarity along with comfort, no matter where they are in the country. This is the premise of the success in QSR's (Quick Service Restaurants). The team at Postmates took a look at how much annual revenue the top fast food restaurants really do bring in, with a different metric: calories per dollar.
We Really Did Eat Mor Chikin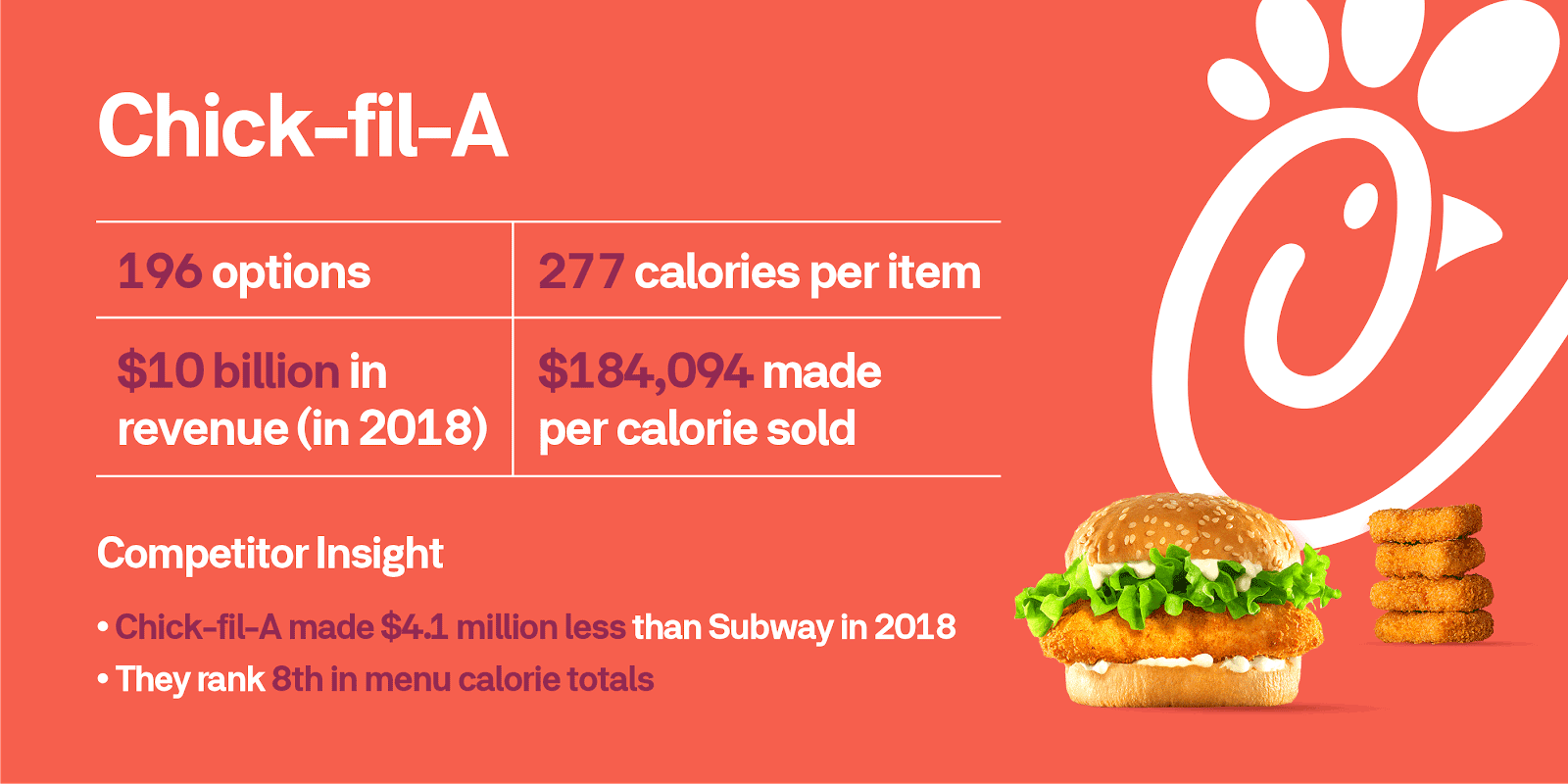 Chick-Fil-A has revolutionized the fast-food industry. After Chick-Fil-A, other brands followed the trend of chicken sandwiches after seeing the chain garner such success. Known for the home of the chicken sandwich, but having famous chicken nuggets as well, this restaurant has brought in a lot of revenue in the states. The 'my pleasure' culture of Chick-Fil-A makes you feel at ease and welcomed immediately when entering the restaurant.
The chicken sandwich has around 440 calories, which is pretty average for a sandwich. But something that makes it stand out? For each individual calorie on the menu, Chick-Fil-A brings in $184,094 dollars annually. This 3 dollar sandwich just turned into an 8 million dollar sandwich. With over 2,000 restaurants around the US and the rise of delivery apps, Chick-Fil-A's convenience and affordability keeps it as one of the top in the market.
More Than Just a Big Mac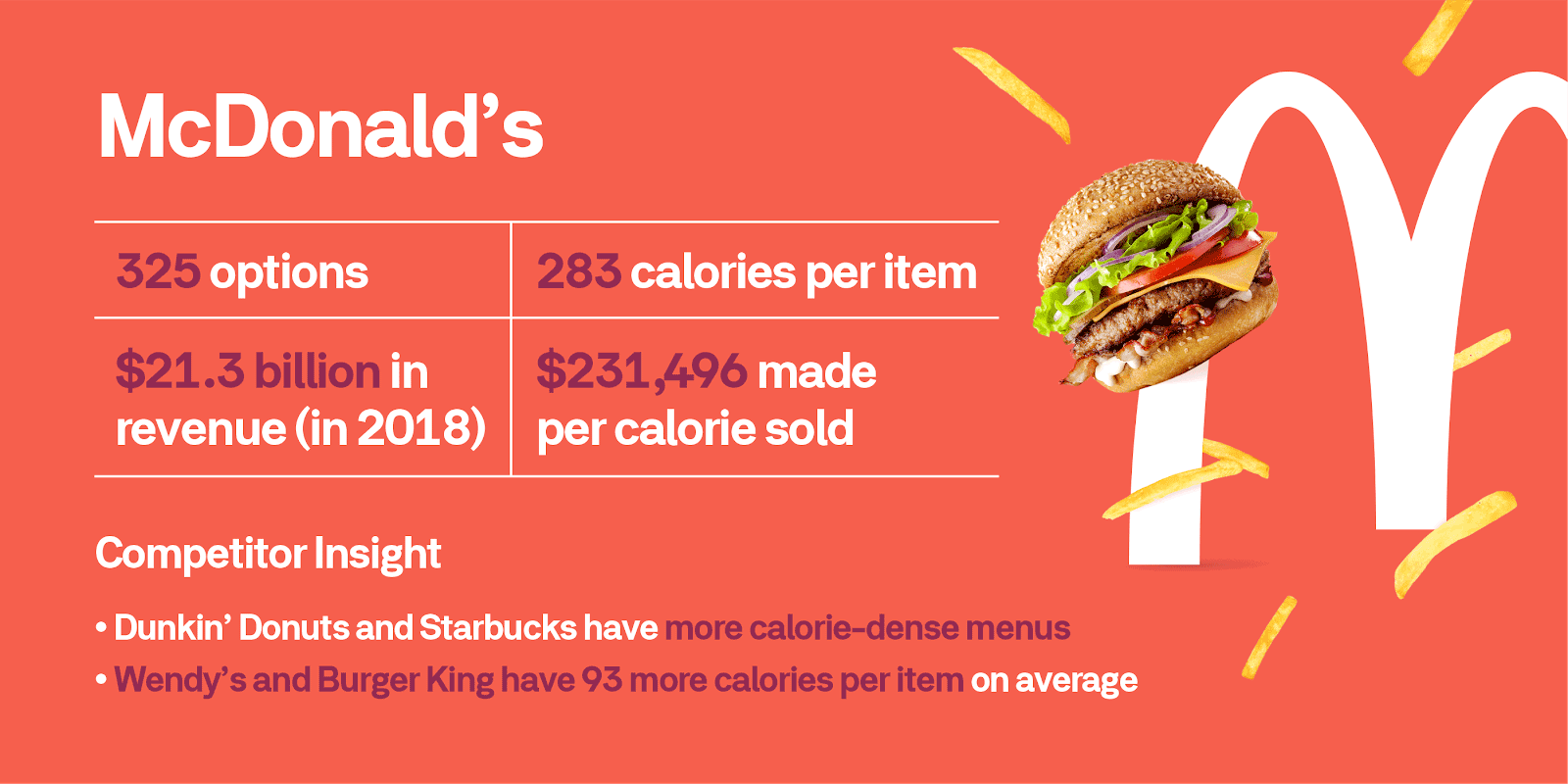 McDonald's takes the crown when it comes to yearly revenue, and has one of the top three calorie counts. Their idea of efficiency and making food quickly changed the restaurant industry entirely. No matter your income, McDonalds is a place that excited you as a child and that you crave as an adult. The success of McDonald's is unlike any other, with people from all over the world drawn into the golden arches. From oatmeal to a double-stacked burger, each calorie on the menu generates $231,496 dollars. Next time you order a 500-calorie item, it'll make you think of just how wealthy the corporation actually is.
Low Calorie and High Fortune at Subway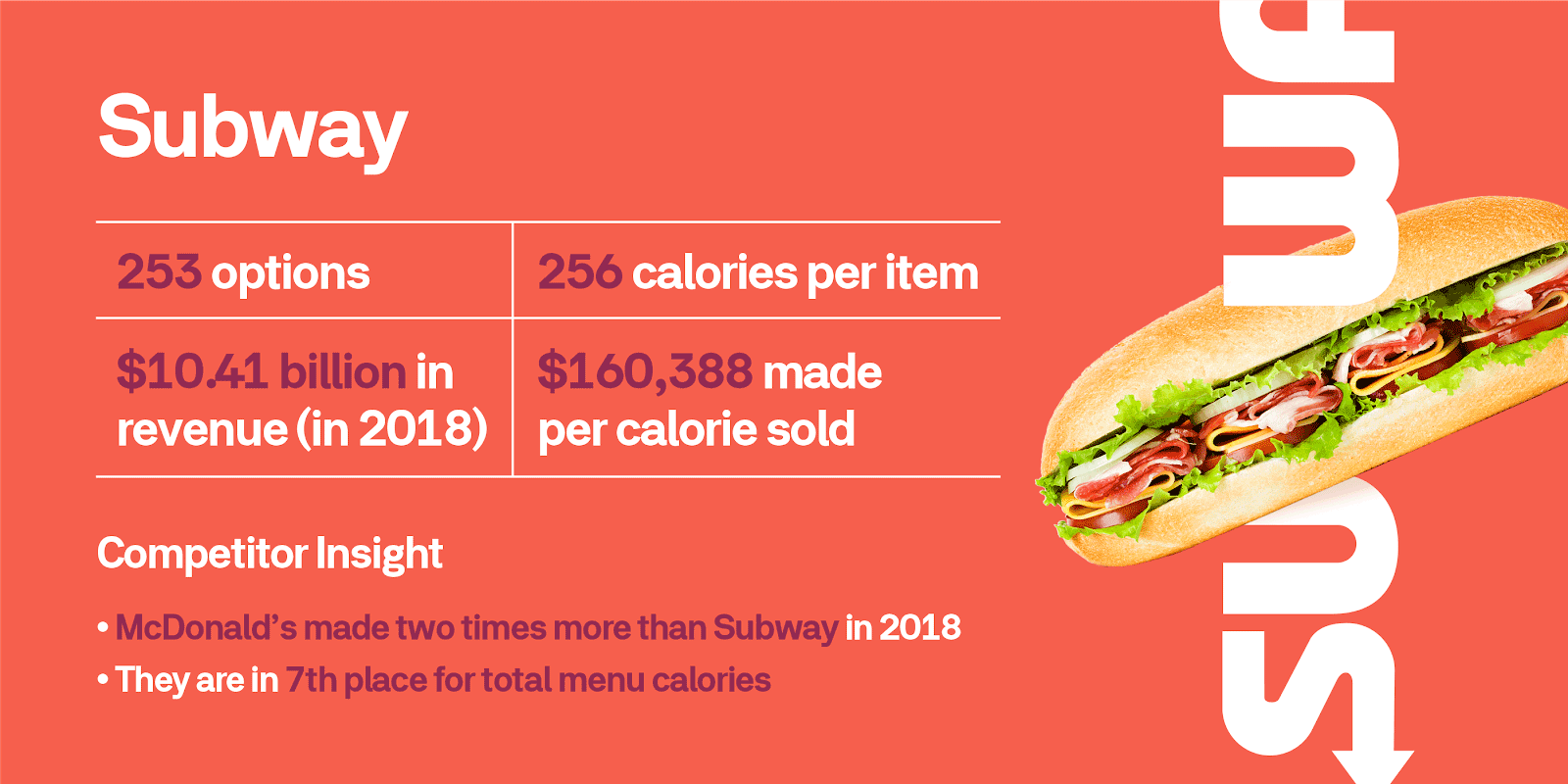 'Eating Fresh' at Subway, with an average of 256 calories per item, has resulted in a high-earning company. The restaurant has fluctuated in success, with its restaurants consistently closing throughout the most recent years. They followed the health initiative due to the world's growing awareness of their health and what they put in their body. Then, they focused on the infamous 5 dollar footlong to show its low-cost aspect. Subway is ranked at number three when it comes to dollar amount earned per calorie. For each calorie, they make $160,388. Within the richest fast food companies, Subway is pretty much at the bottom when it comes to counting calories, which speaks on their low-calorie trend.
Witty Wendy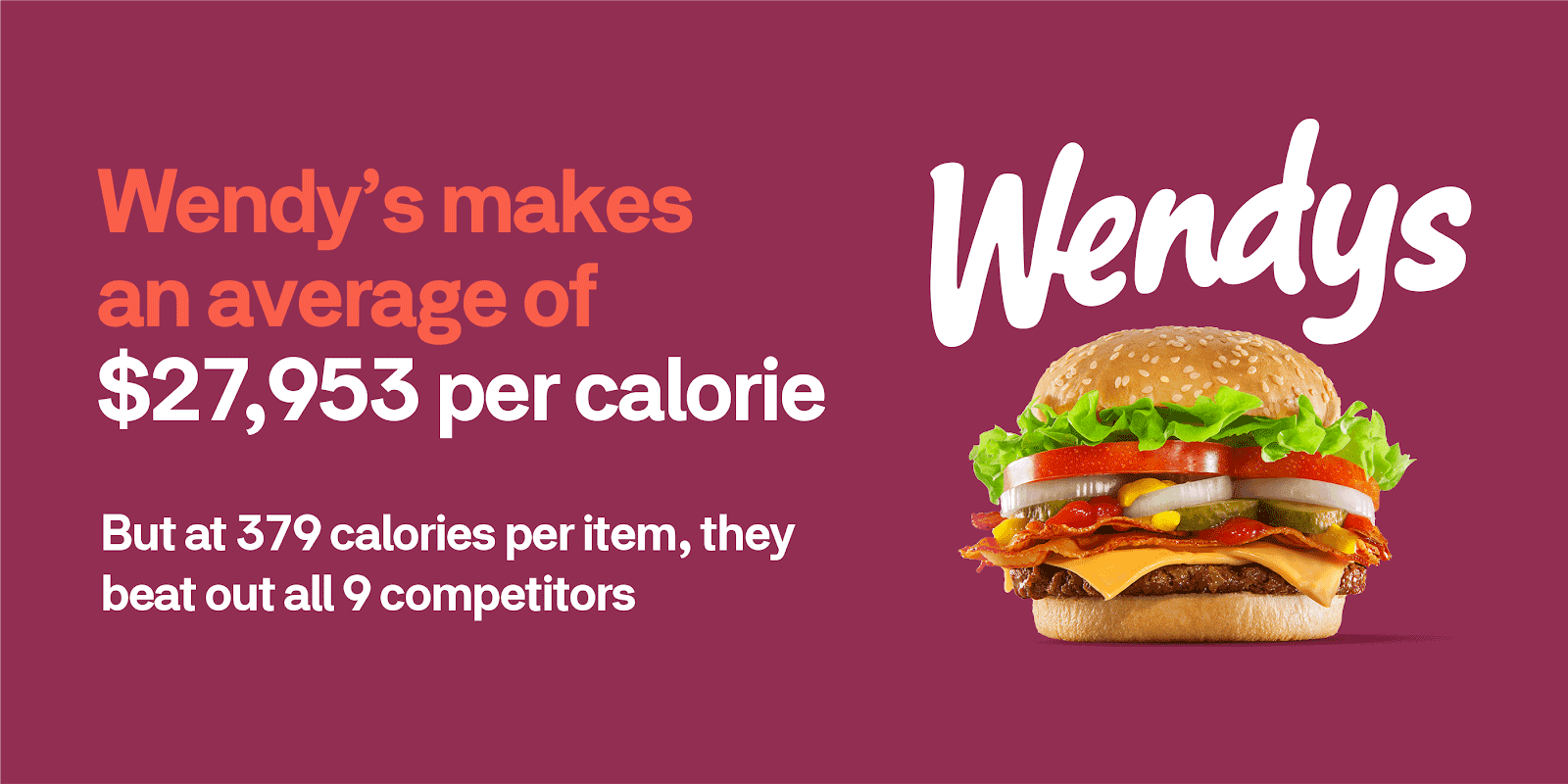 Different companies take different initiatives in order to stay relevant. With Wendy's, their Twitter presence has been booming since 2017. The trolling tendencies has personified the chain and given an interactive platform for their consumers. Building this relationship with people all around the globe on social media has ranked the chain at #6 for profit of a calorie. Wendy's makes $27,953 per calorie on their menu, from everything from hamburgers to their legendary frosties.
There are many factors that come into the success of fast food restaurants. On the surface level, the recipe for affluence at places like McDonalds is to start with a few appliances, a lot of new and improved ideas to appeal to people's taste buds, and the rest comes into place. Usually, trends come and go. However, the idea of convenient and affordable food with instant gratification has been consistent in society. But recently, consumers have wanted to take that convenience up a notch, and thankfully delivery services like Postmates have quickly obliged.
Share This!