Tasty Summer Seafood Trends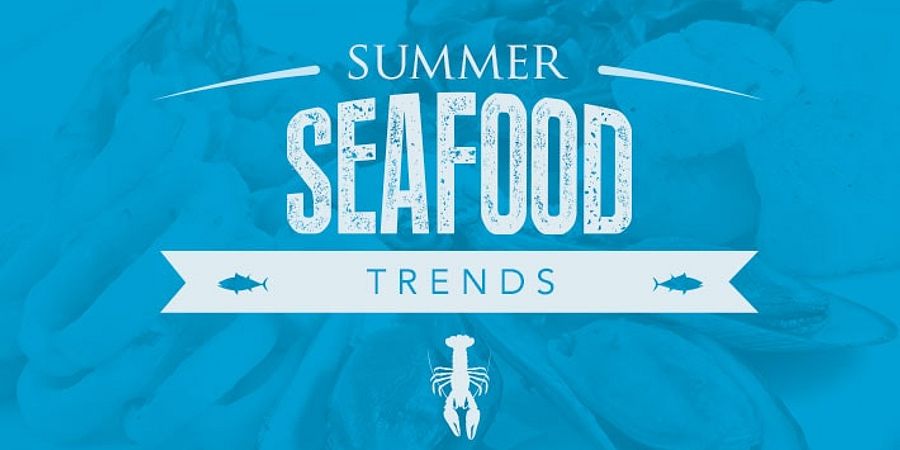 When summertime temperatures soar and beach-goers and landlubbers alike come to the end of a busy summer day, they usually seek out lighter restaurant fare and seafaring dishes are increasingly popular during the summer months. Check out these trends to help refresh your restaurant's seafood menu this summer.
Fresh is Always Better
Fresh seafood is a lighter protein and a delicious alternative to heavy winter meals. Seafood is complemented with the taste of fruits, especially citrus, and fresh herbs, fresh garden produce, and light creamy sauces. More and more, customers are trending toward locally sourced, sustainable fish, and seafood. Eating fresh, sustainable fish protects the environment and the consumer from high amounts of mercury and PCBs.
Local First
Choosing sustainable seafood is not that hard.  First, know where the fish comes from.  Eat fresh, local fish wherever possible.  Even out of season, local fresh fish is preferred over air-transported fish.  While American seafood is not always perfect, the majority of US-supplied fish is generally better than its imported counterparts because of our strict fishing and farming standards.  Go for the smaller fish because they contain less mercury and are more plentiful and generally not overfished.  Choices like squid, oysters, mackerel, and mussels are a good start.
Fruity Fish
The ultimate summer combination might just be the marrying of fruit and seafood. Hallowed pineapple halves are brushed with adobo sauce and then filled with a mixture of the chopped pineapple, clams, halibut, and shrimp. Crowned with more adobo sauce and grated Emmenthaler cheese, the pineapple boats are baked until they reach a rich, golden brown.
Clams, Lobsters, and Shrimp (Oh My)
An old-fashioned clambake, for many people, signals the opening of summer.  Clams are a perennial summer favorite whether raw, steamed, sautéed, stuffed, fried, or swirled in a delicious chowder.  Randazzo's Clam Bar, a fresh-off-the-boat seafood house in Sheepshead Bay, New York is putting a twist on the traditional clams this year with their soft shell crab sandwich whose goodness needs only a dollop of tartar sauce and a spritz of lemon along with a side of zucchini fries.
Sliders are still big this year, made with clams, lobster, or shrimp, served on tiny buns, and made with various flavor enhancers such as ancho chilies or Asian sauces.
Lobster rolls are among the top crowd-pleasures at restaurants, as is the hot-selling lobster BLT. Jerk lobster is getting rave reviews and the Lobster Caprese Salad is a new twist on an old favorite. Offer dining guests a little summertime comfort food with lobster mac-n-cheese or the hot, new lobster shepherd's pie. Red Hook Lobster Pound in the Bowery, New York is serving up a dish called Lobster Elote, chunks of succulent lobster and fresh-off-the-cob corn kernels served in a cup.
Shrimp is a versatile and often-requested dish served in many ways and has climbed the charts to resurface as a fan favorite in recent years.  The traditional shrimp salad is getting a makeover this year when tossed with Greek yogurt, zipped up with a dash of paprika, and served in a pita pocket.
Another popular trend is a grilled spicy shrimp skewer marinated and basted with a Thai-style glaze of lime zest, chili paste, and Asian fish sauce.  This brochette is being served as an appetizer or with a cold noodle salad.
Asian-inspired flavors are still trending this year. The flavors really pop against the background of the milder marine cuisine options. Try lobster fried rice and king crab tempura with dipping sauce.
Ed's Lobster Bar in New York is featuring an irresistible lobster galette this summer. Two layers of thinly sliced potatoes sandwich succulent lobster tail. The combination is smothered with clarified butter and baked in a skillet, then served in wedges with Crème Fraiche.
What other trends have you seen?
Let us know what your restaurant is doing this summer when it comes to seafood. Drop us a line in the comments below.
Share This!