How to Have the Best Halloween Party At Your Bar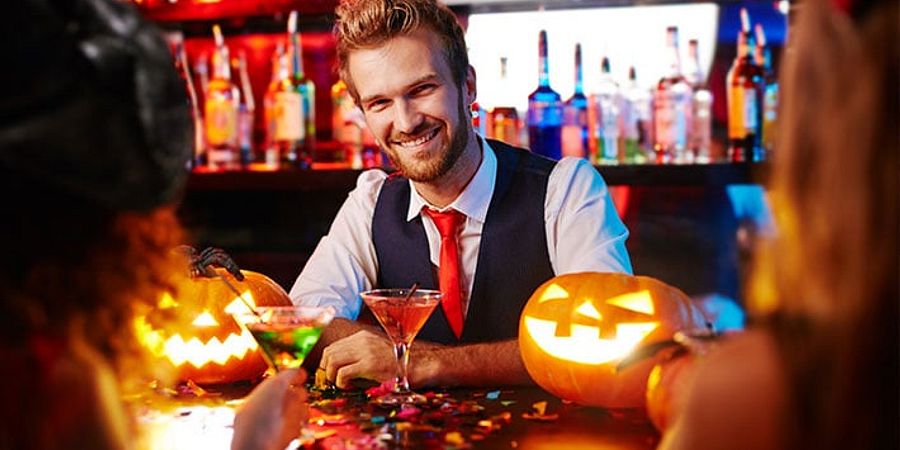 Halloween may be full of haunts for children, but plenty of adults love to enjoy the festivities, which means a party at your bar may be just the fright they desire! The National Retail Federation's consumer activity data for 2014 showed that 66.7% of adults surveyed planned to participate in Halloween festivities, and you can throw the best party in your town. 157 million Americans plan to celebrate the holiday, so why not make your bar their #1 destination?
Give them a Ghoulish Good Time
It's Halloween, so why not get into the spirit? You may decide to offer a costume contest, with two levels, one for individuals and one for couples. The prizes could be gift certificates to your bar or perhaps a gift card for a movie theater or another local attraction. If you advertise this event for at least a week ahead, you'll have plenty of entries! What entertainment options do you plan to offer? Do you have a TV in your bar? Try playing or streaming some public-domain horror movie clips from archive.org to add to the atmosphere. This way you'll avoid having to pay public performance rights like you would for beloved Halloween films. A DJ can help you keep the party going by spinning a mix of energetic music, and Halloween favorites like "The Monster Mash."
Revamp Your Menu with Halloween Creations
You can keep your Halloween theme going with a themed menu of drinks. Take a little time to create a Halloween cocktail, and your party will go off without a hitch! It goes without saying that you need a Bloody Mary, but don't forget to name some of your existing drinks with a horror theme. Think names like "Dracula's Draught," "Fangs-for-Nothing" "Bloodbath," "Fright Night," "Corpse Cola" and more. Even the most mundane drink seems fun with the right-themed name! If you serve food, add Halloween cookies, creepy "finger" sandwiches, and other themed options to the menu. Drink and food specials for the night will likely bring in new "blood" to your bar as well. Or, if you think you might be overcrowded, you can plan ahead and have plenty of pre-made cocktails with a frozen cocktail machine.
Knock Them Drop Dead with Your Decor
Your customers are coming to your bar to have a party that's so good, it's scary. This means you need to step up your decorations to the next level to really add to the mood. Cobwebs and plastic spiders are easy to hang up and can be typically purchased at your local dollar store. For the ceiling, Halloween-themed garland or orange and black paper streamers are perfect, and creepy skulls can be placed all around. If you're careful, you can use candles, or opt for the LED versions, to add a more creepy ambiance. Dress up a plastic skeleton and pose him by your door to get more foot traffic into your bar on the night of your party. If you're really daring, you may hang fake body parts from the rafters or tie them to poles, plus splatter "blood" all over your tablecloths. Don't stop your employees from enjoying the fun, either! Permit them to dress up for the occasion, because what's better than being served by a zombie? You could have shots served in test tubes and offered on a tray by a demented-looking nurse.
This Halloween, your bar can have a spooky party, it just takes a little bit of planning. Do a big marketing push on all of your social networks, and don't be afraid to distribute flyers announcing your costume contest, drink specials, and other events. You just need to think "fun" and "scary" to guide your choices in making it a fright to remember!
Share This!