The Best Ways to Clean Pots and Pans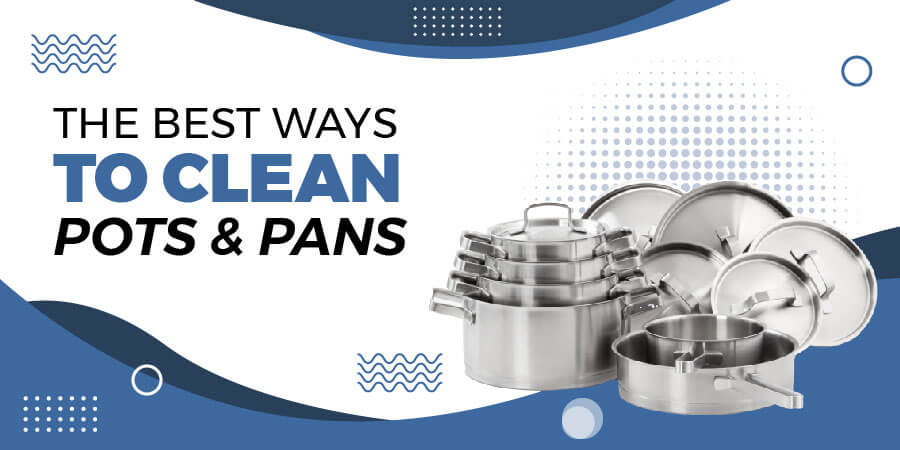 Pots, pans, and other pieces of professional equipment form the foundation of your kitchen. Whether you operate an industrial kitchen at scale, are opening your first restaurant, or are a passionate home cook, you know that your equipment is an investment. Properly cleaning your cookware is an important part of caring for your gear. With a little effort and the proper technique, you learn how to clean pots and pans of any style. Cleaning also improves the longevity of your products and presents a sparkling, professional appearance. Learn how to clean stainless steel pots, non-stick pans, cast iron kitchen equipment, and more.
Cleaning Stainless Steel Pots & Pans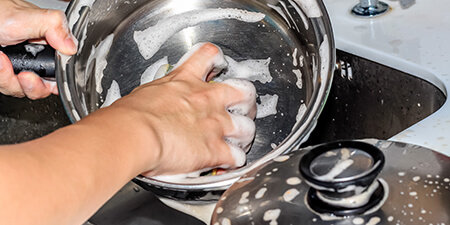 Stainless steel pots and pans are a mainstay of many kitchens. These tools can serve a variety of functions because they transmit heat well. A high-quality stainless pan can handle simmering or searing, while pots move from oven to stovetop with ease. Stainless steel is also ideal for prep bowls, preparing sauces, and even serving diners.
With stainless steel serving so many different purposes, it's common to face a stack of dirty pots and pans when the kitchen closes. You may discover discolored stainless steel or pots and pans with a layer of burnt-on food. This is frustrating, but luckily, it's easy to learn how to clean pots and pans to look like new. Try these proven methods for cleaning stainless steel.
Scrubbing. Old-fashioned elbow grease is still effective. Stainless steel is a durable material, so you don't need to worry about scratching it with most sponges. You can also set stainless steel to soak before scrubbing it. Once the burnt-on food has softened, scrub it clean with a sponge, rag, or silicone scraper.
Salt and lime. If basic mechanical scrubbing doesn't work, make a paste with salt and lime. The rough texture and acidic composition will help loosen stubborn materials.
Baking soda. Another effective option is baking soda. Apply a baking soda paste to the most challenging stains and burns. Allow the paste to sit for a few minutes, then scrub it clean. This should remove almost anything remaining on your pan.
Cleaning Non-Stick Pots & Pans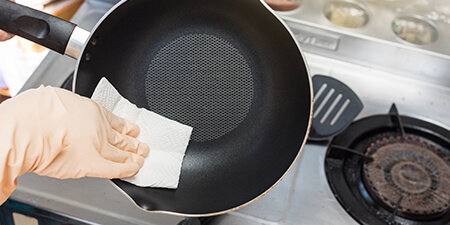 Non-stick cookware is one of the best kitchen innovations in recent years. These pots and pans are versatile and make it easy to prepare delicate dishes that used to be complicated. Most non-stick cooking is simple and doesn't involve heavy messes. It's hard to develop a stuck-on burnt crust when your pan is designed not to stick. Yet any experienced chef knows that even non-stick equipment can occasionally be a challenge to clean. In addition, the non-stick surfaces can require special care. Explore these methods to clean pots and pans while also protecting their important coating.
Baking soda. A baking soda paste is ideal for non-stick pots and pans. The alkaline composition of baking soda can be strong enough to break down stubborn food particles without damaging the non-stick coating.
Cleaning solutions. Professional cleaning solutions such as Bon Ami are carefully designed to tackle difficult messes without harming your equipment. Follow the directions on your container to safely and efficiently clean non-stick pans.
Scrubbing. Scrubbing is still a great way to take care of stubborn burns while cleaning pots and pans. Be careful not to use a scrubbing agent or tool that could scratch the surface of your non-stick pan, as this can ruin its effectiveness.
Cleaning Cast Iron Pots & Pans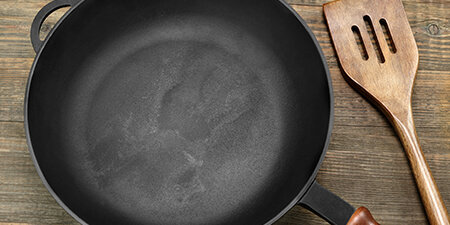 Cast iron implements are a traditional chef's favorite. These pots and pans are excellent carriers of heat and can be used in a range of applications. A single piece of cast iron can transition from stovetop to oven to broiler to open flame, then cool enough to be safely served at tableside. With proper care, cast iron cookware can last for generations. These pots and pans get better with use, developing a delicious patina that makes everything taste better.
Cast iron has a reputation for being tricky to clean. If you don't know how to clean pots and pans, a kitchen full of cast iron is intimidating. However, anyone can learn how to clean pots and pans to look like new, even when cooking with cast iron. Try these methods for the best results.
Scrubbing. When you're cleaning pots and pans, start by simply scrubbing your cast iron with a sponge or rag. In many cases, some basic mechanic cleaning will finish the job. Don't be tempted to let your cast iron soak before cleaning it, as this can lead to rust over time.
Salt and oil. If your cast iron doesn't come clean with scrubbing, use a paste made of salt and oil. The salt's abrasiveness will tackle stuck-on food particles. The oil loosens any food while also protecting the surface of the iron.
Soap and water. Contrary to popular belief, you can use soap and water to clean pots and pans of cast iron. Use the least amount of soap necessary for the job, then carefully dry and oil the pot before putting it away.
General Cleaning Tips
Clean equipment is a kitchen necessity. You should aim to clean your pots and pans every time they're used, daily if necessary, and try not to let them stack up. A pile of unwashed pots and pans can attract vermin, lead to unpleasant smells, and risk rust on your equipment. In addition, a huge pile of leftover cleaning is demoralizing for your staff.
Make sure your kitchen is equipped for cleaning pots, pans, and other equipment. GoFoodservice offers a complete range of commercial dishwashing equipment, including dishwashers, dishtables, and dishwashing accessories. You can also explore warewashing chemicals to help you clean every pot and pan, every day. Keep your kitchen looking and operating its best with a streamlined cleaning process.
Conclusion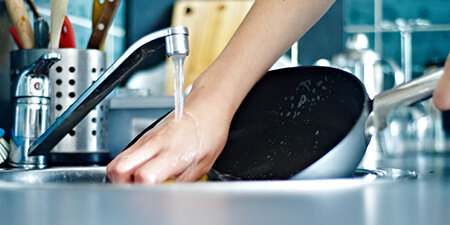 Cleaning pots and pans is not glamorous, but it's essential to maintaining a safe, effective kitchen. Help your equipment look brand new and last for years with regular, efficient cleaning methods. Shop our dishwashing equipment to help your pots and pans last for years.
Share This!