Best Tips for Using a Charbroiler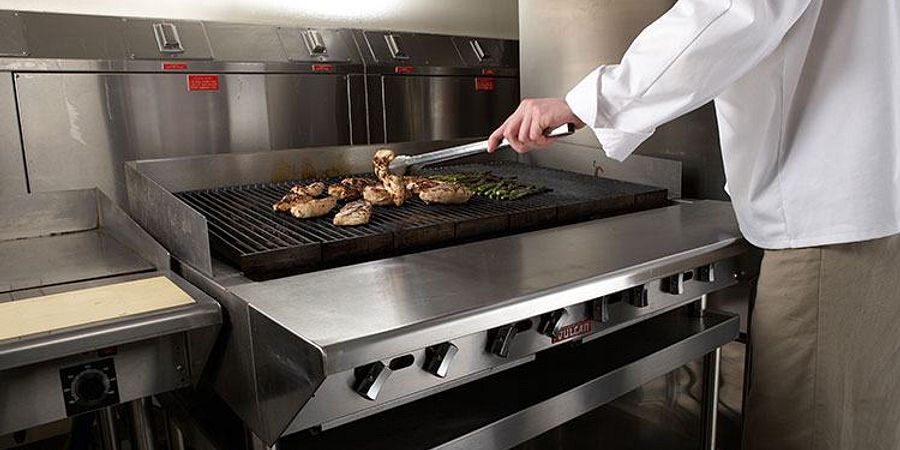 Known to provide foods with a unique and smoky flavor profile, charbroilers can be very useful pieces of equipment for your kitchen. Get the most out of your commercial charbroiler by understanding how best to cook on them and keep them operating in peak condition.
Charbroiler Cooking Tips
Charbroilers enable commercial kitchens to achieve signature look and flavors by using a series of burners or radiants that are evenly spaced under grates. Those grates serve as a cooking surface. High-temperature capabilities allow food to cook quickly. They are available with different heating methods, including radiant gas and infrared. Here are some tips for getting the most out of a charbroiler.
Cook vegetables and proteins such as meats, fish, and seafood directly on the grates to seal in flavor and lightly char foods, producing the characteristic grill marks while adding a light, smoky flavor.
Consider an infrared charbroiler if your menu consists primarily of lean proteins and vegetables. Infrared charbroilers work best on foods that need minimal cooking times and maximum temperatures. An added bonus is that infrared units are typically highly energy efficient.
Keep your charbroiler clean and well-maintained.
Charbroiler Daily Maintenance Tips
Seasoning your charbroiler periodically and keeping it clean will help maintain the quality of your equipment. There are certain procedures you should follow every day to ensure your charbroiler performs at its best.
Season your charbroiler in the morning preferably, before it is turned on. Using oil, grease the grate thoroughly, wiping off any excess. Heat your charbroiler until the oil begins to smoke. Repeat as necessary to produce a glossy, dark finish on the grate.
Clean your charbroiler throughout the day, ensuring to remove build-up from earlier dishes.
Multiple controls allow you to shut off portions of your charbroiler to save energy and save wear and tear of the grate. If you have regular downtimes, such as a break between meals, you can shut down channels of the charbroiler to save on energy and wear and tear.
Apply a light coat of oil at the end of the day to help prevent rust.
For more information, on maintaining your charbroiler, including additional tips and troubleshooting, visit this handy guide: Maintaining Your Charbroiler: Tips and Techniques
Share This!