8 Practical Tips to Market your Restaurant on Instagram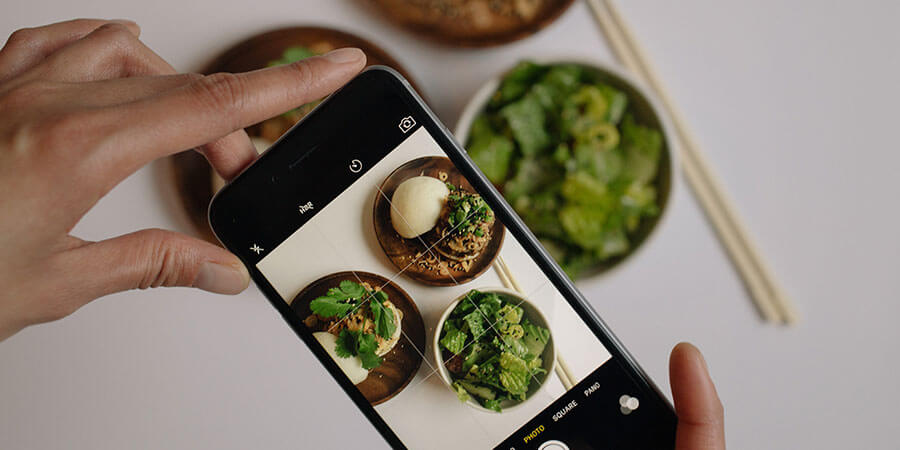 With billions of users worldwide as well as businesses registered on Instagram, this platform has proved itself to be a creative and efficient tool for many strategies. Businesses can use it to sell products, connect with users and customers, build their brand awareness, and get real-time analytics. And all of this from just one spot.

For all restaurants aiming to leverage Instagram for the sake of not only more customers and sales but also branding their business, there's a certain set of actions to follow for being successful. Besides, the active users of Instagram have shown that their favorite content types include food as well.
Even though Instagram is very simple to use, there are still some tricks and tips restaurants need to be aware of for standing out from their competition. From the type of content that needs to be posted to the 'how' of leveraging Instagram, make sure you get all practical.
This is why we've gathered the most important tips to help market your restaurant effectively. We will go over what content you should post, how you should communicate with your followers, and more.
Ready to boost your food business?
How to boost your restaurant on Instagram? (8 tips)
1. Set up a business profile
If you've made the decision to level up your restaurant business, you have to go professional all the way. Let's start out with a good-looking Instagram profile for your restaurant.
Setting up a business account isn't too hard. Here's a mini step-by-step guide:

Go to your Account Settings and click on Switch to Professional Account.

Choose the type of business you're doing, for example, "Fast Food Restaurant".
Connect to your Facebook business account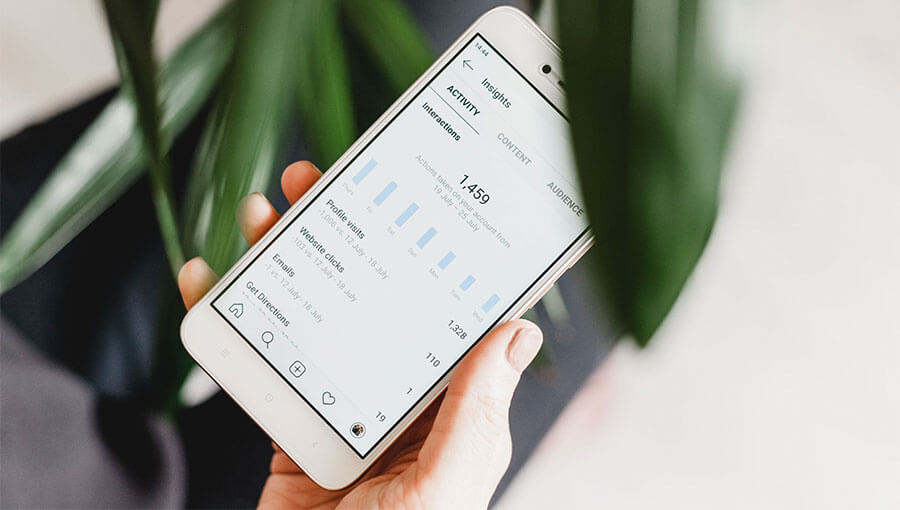 There you go! Now you're all set to use all the advantages of a business account, including scheduling Instagram posts, using advertising, and accessing the Analytics section.
2. Post hunger-provoking photos
It's a simple fact that our brains process 90% of the information in its visual form. Meaning that images, videos, and other graphics are more likely to influence our decision-making. Moreover, Instagram being the most visual social media platform out there allows restaurants and food businesses, in general, to get noticed.
Have you ever randomly come across a good-looking pasta that made you hungry? That's what your goal should be: to make your followers want to have a bite.
With this in mind, make sure you publish "tasty-looking" photos of your chocolate pies, chicken and ham pizza, and freshly made tacos. These types of imagery will not only help boost engagement on your social media profiles but will also ensure to improve business sales and increase the number of your daily customers.
Content quality and relevance are also important factors. If you want to appear professional and market your restaurant effectively, you have to consider all types of details.
3. Stay in touch with your followers
One of the most important features of Instagram is that it helps restaurants build firm relationships with existing customers and followers and attract new ones. As you keep posting relevant, engaging, and visually appealing content, you'll gain more attention and therefore, more people to communicate with.
You can't simply avoid human interaction. In fact, you can use the many features of Instagram to build and prosper your client communication. Replying to their messages, answering various questions they have, and discussing the latest changes in your menu are all effective ways of interaction. Also, make sure to respond to comments to show your appreciation.
As a business on social media, you'll get positive as well as negative feedback. It's important to note that you should take care of both as this is an important part of communicating with customers and building a successful restaurant brand.
4. Encourage customers to tag you
There are many ways to make your followers post about your restaurant and tag it. For example, you can have an extremely creative bathroom that will make your customers want to take unique pictures for their Instagram. (Haven't we all done something similar?) Many restaurants use these types of marketing tactics to engage people in a more natural way that also helps them stand out as a business.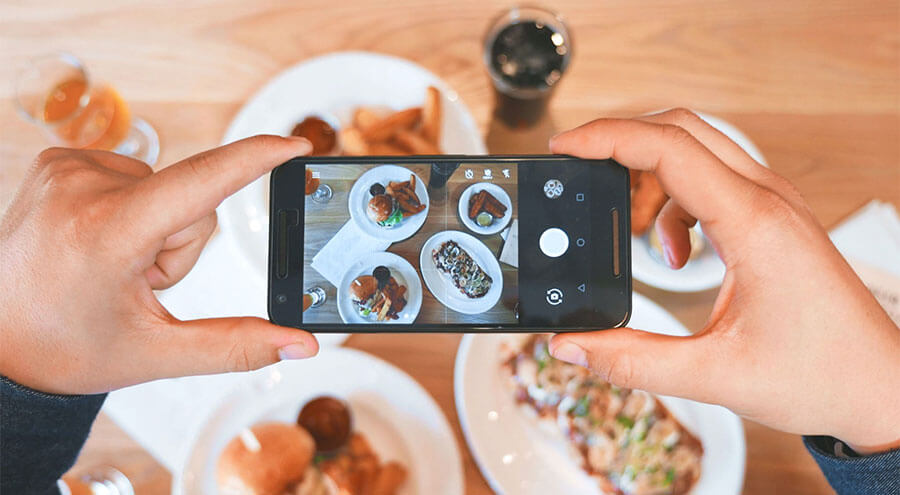 Whether your customers are sharing a friend-group picture of eating sushi at your restaurant or posting stories and tagging you, this is a great way to get recognized. Even in this digital world of social media marketing, the old word-of-mouth marketing method still has its special influence. This is because as humans we trust the opinion of other humans.
This tactic is called UGC (user-generated content) and is a free way of effective advertisement.
5. Share videos, lots of videos!
Whether on social media or any other platform, videos have become the most wanted and popular type of visual content. The reason behind this is that they are more interactive, entertaining, and give lots of information in, maybe, 10 seconds. And, with the growth of Instagram Reels, they become more effective for getting noticed on this platform.
Why not show off the special skills of your restaurant chef or the friendly atmosphere in your cozy bakery? Get all creative by taking your followers around your restaurant through a video, share live videos about important events, or post funny ones just to make the day of your followers. People not only come to Instagram for browsing and finding out the best places to eat, but also for pure entertainment.
When it comes to Instagram, you can not only post simple videos, but also use the advantages of creative stories, IGTV videos, Reels, and more.
6. Add relevant #hashtags
Instagram hashtags are simply the key for research. As regular users, we've all looked for #cakerecipes or #winemaking while browning the IG recommendation sector.
Keep this in mind next time you're posting something on your business page. Adding a few right hashtags will make your posts easy-to-search, and your brand more reachable. Hashtags are also one of the core elements of Instagram's algorithm, so they need a little more effort than you think. Incorporating popular hashtags is a must if you want to successfully market your restaurant on Instagram.
Some of the most used hashtags include the following:
#instafood
#yummy
#restaurant
#food
You can also add other relevant hashtags like #doughnuts, #cheeseburgerfries, #fastfood, and more.
7. Show your restaurant backstage
To help your present and future customers get acquainted with your restaurant in a more effective way, you can show the inner side of your business. Sharing backstage images from your restaurant kitchen and introducing staff members is a great way to appear as an open and friendly space for food lovers. It will also help you with user acquisition, as well as customer retention strategies in the long term.
If you want to get even more creative and original, you can post bloopers, funny stories, and inside jokes within your restaurant. Your followers not only want to see the appetizing meals and refreshing drinks, but would also love to discover how it's all made, and what interesting stories you have to tell.
Always keep in mind that even though your Instagram account mainly has business purposes, you're still interacting with humans. And everyone loves honest, friendly, and pure communication.
8. Collaborate with influencers
Influencers and brand ambassadors have gained much popularity since the rise of Instagram business profiles. On one hand, you can leverage all the features and tools offered by Instagram. On the other hand, collaborating with influencers will work even faster and make your restaurant famous in a shorter period of time.
One of the most common ways of working with Instagram gurus is by getting a good review from them. Just make sure their style and approach to Instagram align well with the type of your restaurant. You can also organize daily brunches or host an event by the influencer you work with.
Choosing the right influencer for your restaurant may seem hard, but the results are definitely worth it.
Conclusion
Marketing your restaurant on Instagram is a very effective way of boosting its visibility. Most features and advantages are completely free! If you want to grow faster and gain more followers over time, you can use social media ads and paid features for businesses.
To sum up, there are various ways you can leverage Instagram for your restaurant including a higher rate of user engagement, a bigger number of customers, and better client satisfaction.
In any case, restaurants make the best out of Instagram, so why get behind the competition? Post more attractive content, use more engaging captions and visuals, and keep in strong touch with your followers.
Share This!