5 First Steps to Get Your Restaurant Noticed On Google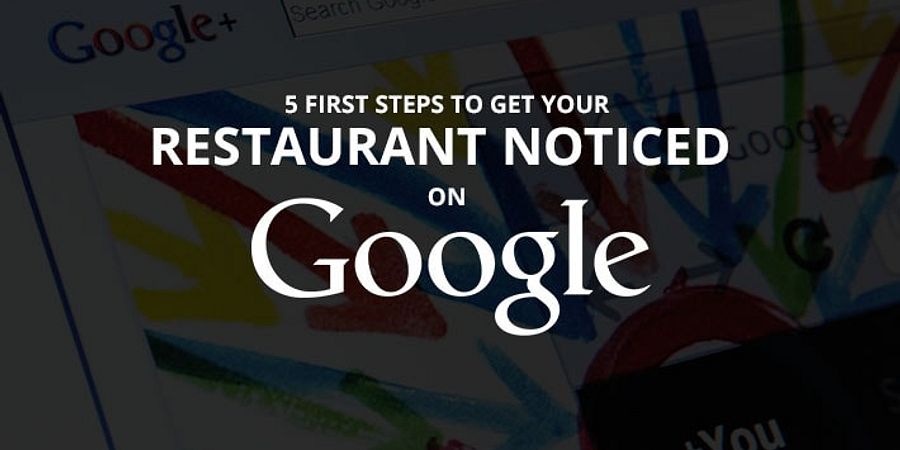 If you want to take a bite of the $683.4 billion restaurant market pie, you have to get your restaurant noticed, and with over 990,000 eating establishments in the United States, it is important that you stand out in the crowd.
Nine out of ten restaurants are smaller places with fewer than fifty employees but that does not mean that small businesses have to settle for the often-small local traffic that lives nearby.  By taking advantage of available online marketing and getting your restaurant noticed on Google, you can increase diners and dollars.  The following five suggestions can help you to get your restaurant more attention on Google.
Create an online presence, not just a website
Today's customers don't turn to the phone book to find a restaurant, they search online. Be available to them by having a website where they can find your address, phone, and restaurant hours, information about specials, and even coupons or discounts. Enrich your online presence with photos, menus, and comments. While websites inform customers, social media engages customers and draws them in with specials, events, discounts, and more.
We know that starting from scratch can be a struggle so check out these great restaurant website templates to get you started!
But don't just stop with your website. Google takes signals from a variety of 3rd-party local directories, most notably Yelp. Having another place to post your menu, pictures, and directions is great but the real juice here is customer reviews. These 3rd party websites add significant credibility to what your customers have to say. Here is a great list of directories to build a profile on for your restaurant's website.
Once you have your various online platforms set up, promote your restaurant on Twitter, Facebook, and Google Plus. Link social media posts to your website to boost rankings.
Get on Google (It's Too Easy!)
Yes, this may seem obvious for a post about getting noticed on Google. But there's much more to it. Create a Google account for your business and you can access the entire Google network including Google Maps, Google Analytics, and Google+ (or Google My Business in this case). These valuable tools are vital marketing platforms for any small business. Instructions for publishing your restaurant on Google is free and easy and instructions for setting up can be found on the Google Business page or Google Analytics page. Once you have an account, update it regularly, and analyze customer reviews to make sure you are getting the best results.
Take Advantage of Search Engine Optimization
Potential customers search for restaurants using keywords such as "Italian restaurant" or "breakfast." Google looks at these keywords and uses algorithms to return a list of web pages to the user. Google's Keyword Tool helps you to find and place keywords in your website content that will drive traffic to your site. Search Engine Optimization (SEO) techniques include using the keywords naturally in the content but not overusing or "stuffing" them, building real authoritative links to your website, setting up engaging social media platforms, and incorporating appropriate inbound marketing strategies.
Use Google AdWords
If you need to amp up your advertising, consider using Google Adwords.  Linked to your original Google account, you can use the Adwords tool to find keywords that are related to your business with a high number of searches each month and low competition numbers.  The Adwords tool walks you through the process of designing an advertising campaign that includes your targeted keywords.  While there is a cost for Adwords, you can watch the traffic to make sure you are getting a good return on your investment.  In addition, web hosting companies and Google often offer free codes for Adwords credits that can provide savings for your advertising dollars.
Share Your Tips
What other ways are you using with your restaurant to get noticed on Google? Share your thoughts in the comments below.
Share This!