4th of July Restaurant Marketing Ideas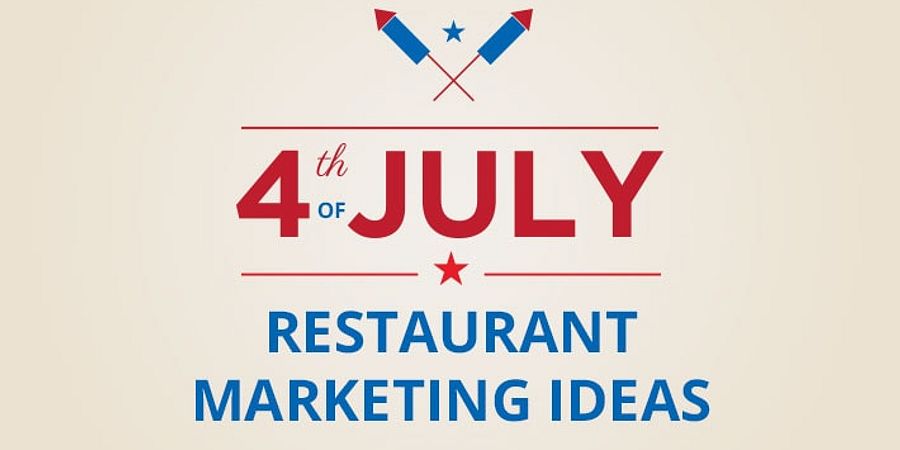 Celebrate The Grand Ol' Flag and the fireworks of the Fourth with family, fun, and friends all while growing your business.
Most people will be spending the day with family and friends, giving you the perfect opportunity for new customers. Bringing groups to your business not only adds to their enjoyment, but to your bottom line. Here are ten great ideas to get your Uncle Sam spirit on and join in the fun of the country's birthday.
Decorate in Red, White and Blue
Catch the eyes of celebrators with Fourth of July décor outside your restaurant. Set out pots of red flowers in blue pots, hang patriotic bunting, set out buckets of small flags, hang large flags.
Advertise Specials
Before the holiday, offer to do a spot on your local daytime television shows or news broadcasts. A chef from your restaurant can prepare a special holiday meal or ways to dress up the normal Fourth of July fare. During the spot, offer a discount to customers or tell them about daily specials you'll be featuring on the Fourth.
Go Outside
Set up an outdoor, storefront table or booth, and offer typical party foods to-go. Prepackage ribs, chicken, coleslaw, apple pie, baked beans, corn on the cob and have them available for partygoers to drop by and pick up on their way to activities. Encourage pre-orders but have some extra for last-minute shoppers.
Be Social
If your town has a special celebration, set up a booth offering food and drinks. You may want to include a bounce-back coupon for each customer to use at your restaurant later during the month.
Use Your Resources
Restaurants that have a beautiful view of local fireworks displays can make exclusive offers to the best clients to book a table for viewing. Offer special drinks and desserts during this Fireworks Special time.
Patriotic Variety
Change up the menu a little, offering Fourth of July foods not normally on the menu. Tweak the barbecue sauce for TNT Ribs or Patriotic Pull Pork sandwiches, or red, white, and blue shakes. Have a Blue or Red Plate special offering gourmet hot dogs, burgers, and peach cobbler. If you own a bakery, make a special muffin or cupcake for the day. Coffee shops or bars can create a special drink for the one-day celebration. Offer unique appetizers or desserts.
Make it an Event
Have a food-eating contest. Feature one of your special items or America's most popular apple pie and encourage the crowds to gather and cheer on their favorite contender.
Cater to Customers
If your restaurant normal caters, or has the capacity to do so, offering special Independence Day Catering packages to would-be-tired party hosts who would love for you to do the cooking for their party.
Be the Host
Don't forget those who don't already have any special plans. Invite guests to your restaurant party indoors or on your patio or beachfront. Have a band for dancing, give away free flags, and maybe a free drink for anyone wearing red, white, or blue. Offer special drinks for the night such as a Blue Long Island or Mexican Red Hot. Set your TV screens to fireworks displays where available.
Free Give-Aways
These always draw crowds. Of course, special discounts will be popular, but in addition, offer free small flags to customers, or a box of Sparklers with every take out order. Free ice cream or free liters of soda are popular as well.
Get the Information to your Customers
Whatever holiday celebration options you choose, the most important thing is to get the information about your specials to your potential customers. Utilize Twitter, Instagram, Pinterest, Facebook, or other social media sites to show off some of your specialties that are most successful on Independence Day. Use the restaurant reservation website to which you normally subscribe to promote Fourth of July themed specials. Text customers with special offers. Utilize coupon outlets and signage to let people know that you're ready to celebrate with them, bringing them great food and drinks.
Share This!