10 Ways to Motivate Your Staff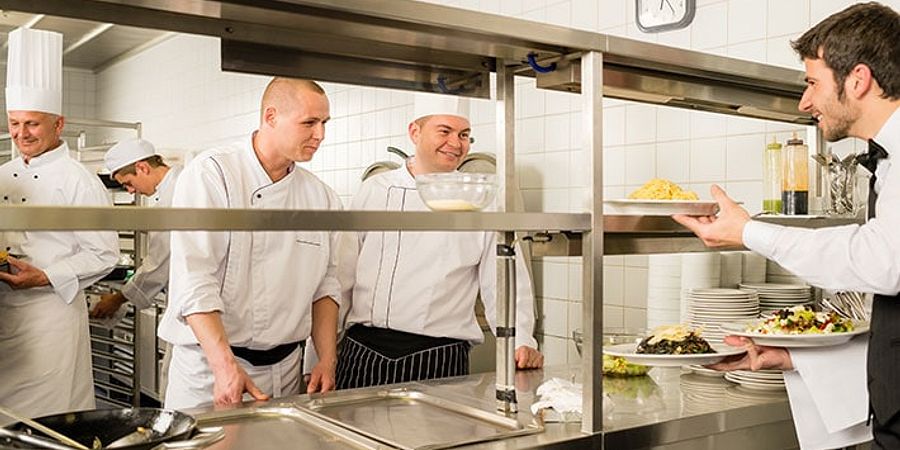 Employees are the lifeblood of your restaurant, and if they aren't happy, then you aren't happy. These individuals are more than just workers, they're the cogs in the machine that's your restaurant; they keep your restaurant going. It's easy to motivate your employees if you take the time and money to do so, and the investment you make will pay dividends.
Set Goals and a Reward System
Your employees need to know what they're supposed to be doing, and what goals you have for the restaurant. The best way for them to help you make your goals is to discuss your goals with them, otherwise, they're just kept in the dark. However, a goal system needs a reward so your employees have an incentive to help you achieve the goals. Rewards don't need to be extravagant but could be a gift card to a local business, or maybe a small cash prize.
Be a Leader
Kitchen Nightmares' host Gordon Ramsey regularly travels to restaurants to help frustrated owners and their staff save the struggling businesses. One of the most common things Ramsey sees in these restaurants is owners and managers who don't lead. The best thing to motivate your employees is to lead by example, and show them what needs to be done. It's also important to communicate that you're willing to pitch in and help when needed, so they don't feel like they're alone in the kitchen or out on the floor.
Recognize Milestones and Birthdays
A Gallup poll cited in the business bestseller How Full Is Your Bucket? Positive strategies for Work and Life found that the "number one reason American workers leave their jobs is that they don't feel appreciated." One of the best ways to show your appreciation is to recognize anniversaries and birthdays. If members of your staff have worked for you for a certain number of years, you can take the time to recognize their loyalty by acknowledging their work anniversary. A simple card with a personalized message can mean a lot, and when they reach a milestone of five or more years, you may consider giving them a gift card or other small gift of appreciation. When it comes to employee birthdays, one of the best ways to motivate your restaurant staff is to recognize their special day. A card and a cake is always a nice gesture and creates a positive work culture for others. It also lets other members of the staff recognize the birthday individual for a day.
Don't Set Quotas, But Instead, Encourage Friendly Competition
Fostering a friendly competition among employees can make the restaurant a fun place to work, and have all of your employees working toward a common goal. Don't demand your employees individually meet a quota, but instead encourage them to beat each other in a certain amount of sales for wine, desserts, or whatever else you'd like. You may decide to post the weekly or monthly goal in your employee breakroom and offer an enticing prize. Some prize ideas may be dinner for the employee's spouse or significant other on the house, or a free day off of work.
Let them Eat
What's one of the best ways for your staff to sell your food? Let them eat it! By offering a free employee dinner of an entree and side, for example, you're not only giving a benefit to your employee, but you're also helping yourself. As your employees eat off your menu, they're better able to describe the dishes to customers, and give an honest opinion when a customer asks "What do you recommend?"
You can also figure out which dishes are winners and which are duds based on your employees' opinion.
Offer Chances for Advancement
Your restaurant's busser might not always want to be a busser, but instead a waiter or host. By giving your employees a chance to move up in the company, you're encouraging them to work hard and giving them a sense of purpose. An employee who feels like he's stuck in a certain position may become lazy, unmotivated, and may even quit. However, an employee who knows he can work his way up to a new role and pay will demonstrate why they're capable of handling the new role's responsibility through their work.
Train Your Employees Well
An employee that isn't educated on the needs and procedures of the restaurant is an employee that's left to be on their own. If you want to minimize problems at work and show your faith in your employees, you need to offer training. A binder full of training material is not as effective as having your employee actually have hands-on training, whether their role consists of running food or taking orders. You can have a new employee shadow a senior staff member to see the ins and outs of working in the restaurant and have the senior staff member guide them on how to do a great job.
Feed Them
During busy times at your restaurant, your employees might be working hard and not have time to grab something to eat. Why not offer to order a meal for your crew once in a while? You'll be giving them something to look forward to and also making sure you're taking care of their needs. Once fed, they'll be motivated, happy, and work even harder for you.
Create Teams
At your restaurant, it should never be "every man for himself." You should aim to create teams of people who can work together to get jobs done fast and efficiently. There's value in having a shared goal, and if your employees don't feel alone with 15 jobs to complete, they'll be a lot happier to work. You can let them play music after closing as well, just to make hard tasks a little more enjoyable.
Have Fun
Most businesses, from small-town shops to Fortune 500 companies, have adopted the Employee Appreciation Day event. Having an event where your employees and their families can gather lets you have fun, and show appreciation at the same time. You can have a beachside BBQ or picnic, or maybe a group event such as bowling, karaoke, or a night out at a local amusement park. The event doesn't need to be lavish, large, or expensive, and you should always set a personal budget. Try to schedule these events at times when most of your employees can attend, or on a day when the restaurant is normally closed, such as Monday.
The thing to remember, even when considering all of the options we've highlighted above, is to talk to your employees. Communication is one of the building blocks of a business, and your employees should feel like they can come to you with any concerns, questions, or complaints. A little communication, just like appreciation, is the best way to get your employees committed to your restaurant and its business.
Share This!