10 Wacky State Fair Foods: Wild, Crazy and Ridiculous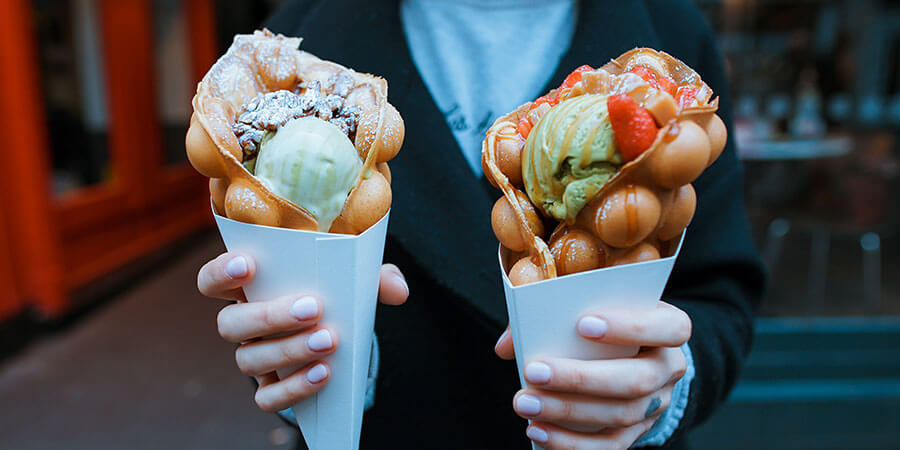 State fairs were once places where the kids and the folks took a break from Mom's healthy green beans, biscuits, and pot roast and indulged in hand-held novelties like corn dogs, burgers, soda pop, and snow-cones. Grandma bought a scrumptious blackberry pie and samples were given out after the judging took place.
Today, state fair foods have taken a wild ride into the crazy and wacky. Each year vendors seek recognition for their unimaginable, over-the-top food creations, mixing and matching, frying, and dipping things you might never expect to find. And, fairgoers eagerly indulge in these heart-stopping, artery-clogging delicacies just to try something new, to boast that they've eaten it, and to find new favorites. We take a trip through wild fried foods and other extreme delicacies for the adventurous fair-goer. Our only recommendation: test out these state fair goodies only after you're done riding the Ferris wheel.
The Wild Ride of State Fair Foods
Hot Beef Sundae
Don't miss a trio of heart-attack, indigestion-inducing treasures that will have your taste buds in gastronomical heaven. The Hot Beef Sundae is a hunk of marinated beef in a cup, frosted with mashed potatoes and drizzled with beefy gravy, sprinkled with shredded cheese and corn, then topped with a cherry tomato.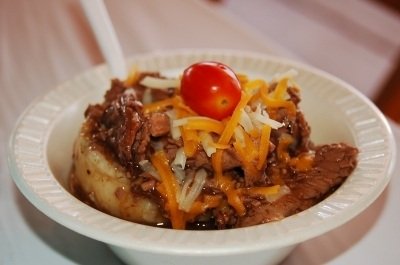 Iowa State Fair Hot Beef Sundae
Krispy Kreme Burger
The Krispy Kreme Burger slides a beef patty, cheese, onions, pickles, and bacon between two glazed Krispy Kreme donuts at 1100 calories and 67 grams of fat.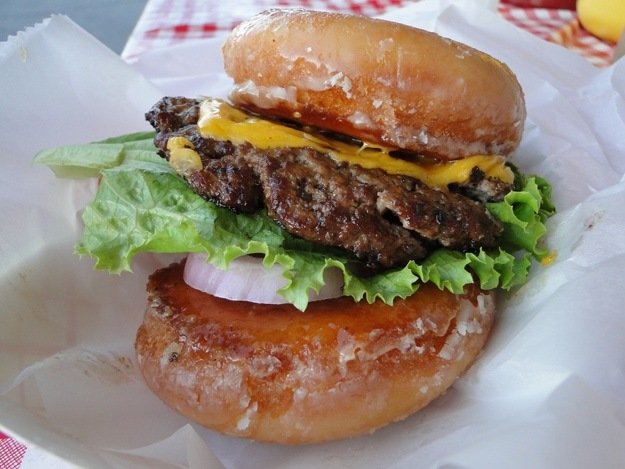 Fried Ice Cream Burger
However, perhaps the biggest burger of all is the Cheeseburger with Fried Ice Cream—a huge beef patty, cheese, bacon, lettuce, onion, pickle, and tomato, topped with a generous scoop of crispy fried vanilla ice cream, all sandwiched in a tasty bun.  The sweet and salty fusion has been described as a "milkshake burger."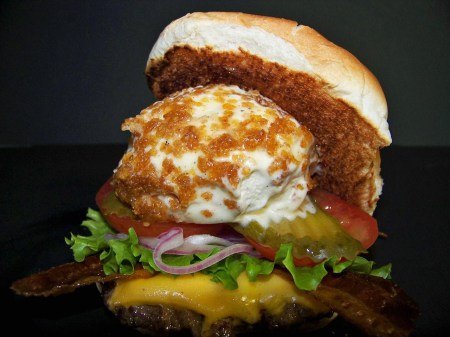 Florida State Fair Fried Ice Cream Burger
Chocolate-Dipped Bacon
Any fair, party, celebration, or holiday has to incorporate chocolate and the state fair is no exception. From chocolate-dipped ice cream bars in unique shapes to potato chips, nearly everything has taken a dunk in a chocolate booth at the fair. Chocolate-dipped bacon often called a Muddy Pig, is a fair favorite.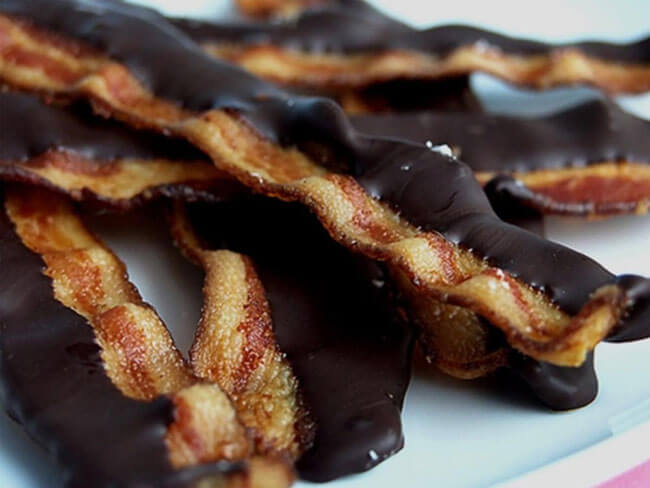 California State Fair Chocolate-Dipped Bacon
Chocolate-Dipped Insects
If you're brave, you can try the not-really foods such as chocolate-dipped scorpions or grasshoppers.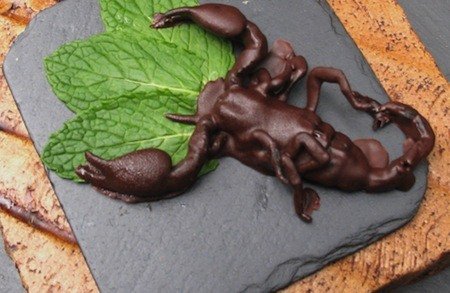 Maggot Carmel Apple
For the truly courageous, bite into a maggot caramel apple, just might want to keep a large drink nearby.
Fried Peanut Butter and Jelly
If the basic funnel cake is too dull for you, try fried Oreos, fried cheesecake balls, fried Snickers and other candy bars, fried peanut butter, or fried jelly beans. Seeking more of a main dish at the fair? There is always fried ravioli, fried caviar, fried bacon-cheddar mashed potato balls, fried peanut butter and jelly sandwiches, fried macaroni and cheese, and fried spaghetti and meatballs.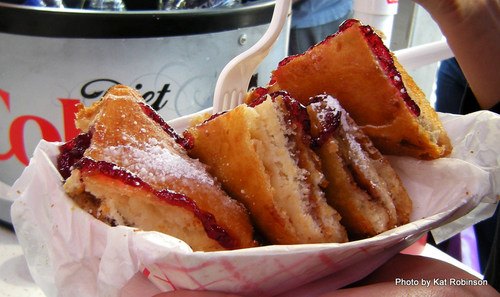 Arkansas State Fair Fried Peanut Butter and Jelly
If you don't really care what it is, but just love it fried, then the fried Pepsi, Kool-aid pops or fried butter balls might be the ticket.
Breakfast on a Stick
The simple stick is a brilliant food delivery system. It is all at once the perfect cooking tool, serving utensil, and eating method. Easy to use, just toss the stick when you're done and you're on to the next ride or display. At the Minnesota State Fair, you can get your entire breakfast served up hot and deep-fried and on a stick.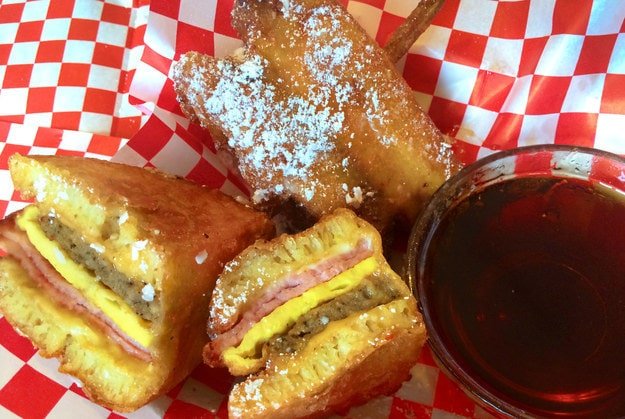 Minnesota State Fair Breakfast on a Stick
Deep Fried Meatloaf and Chocolate Covered Fried Pickles on a Stick
Some state fairs offer as many as sixty different types of food on sticks. Most of the fried foods are served on sticks. In addition to those, you can enjoy a mackerel of marinated steak or bacon-wrapped turkey or corn on the cob all served via sticks. If you're still at the fair come dinner time, try Deep Fried Meatloaf on a Stick followed by chocolate-covered fried pickles.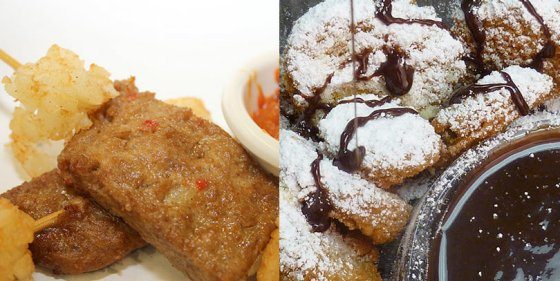 Minnesota State Fair Deep Fried Meatloaf and Chocolate Covered Fried Pickles on a Stick
Whichever tasty food you choose, the state fair is the place to try wild and crazy foods, indulge in some staples, and never walk away hungry.
Share This!