10 Beautiful Kitchens with Butcher Block Countertops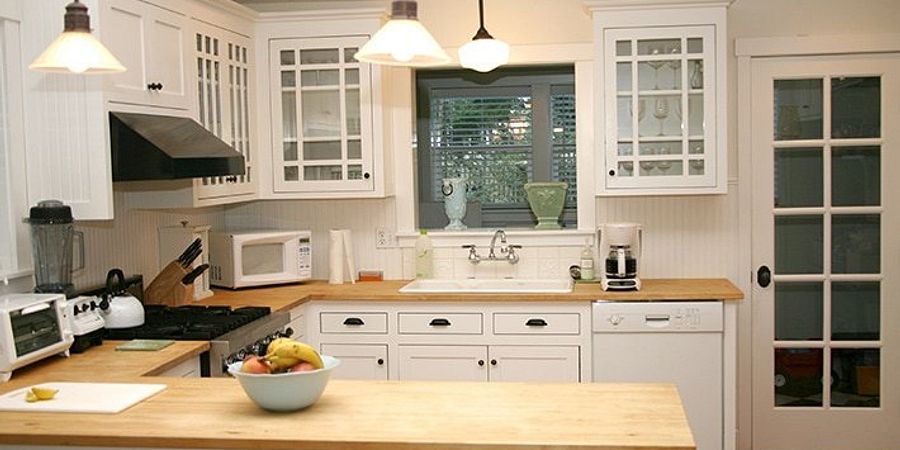 Butcher block countertops were once used as a way to save money in a kitchen design, by replacing pricey granite with a more affordable yet durable option. However, in recent years, the butcher block countertop has become a popular choice in kitchen countertop for home design for aesthetic reasons as well as practical ones.
The butcher block countertops fit in nearly any design, are easy to maintain, provide a cutting surface, and can be stained to match the overall look of the kitchen. Let's take a look at 10 beautiful kitchens with butcher countertops.
1. Australia Gold Coast Beach House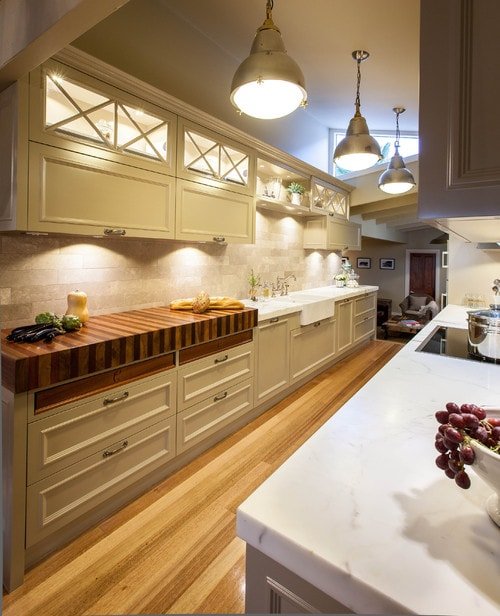 Traditional Kitchen by Other Metro Interior Designers & Decorators Interiors By Darren James
When you use a butcher block countertop in your kitchen, you're able to use it in virtually any design scheme. This versatile factor is on display here in this Gold Coast, Australia home. The homeowners were inspired by the feel of beach homes in the United States' Hamptons and wanted to evoke the same feeling in their beach home. This butcher block counter is custom made out of Australian hardwood. The beauty of the wood's grain matches well with the cabinetry throughout the kitchen, yet stands out enough to draw your eye.
2. Black Contemporary Kitchen in Portland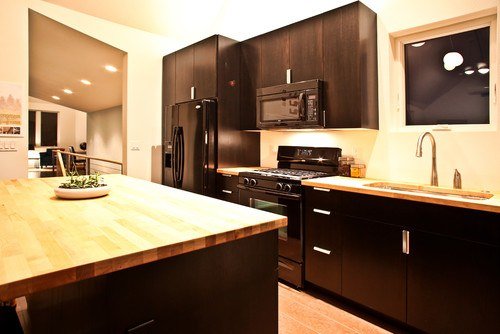 Contemporary Kitchen by Portland Interior Designers & Decorators nicole helene designs
Butcher block countertops aren't commonly seen with black appliances, however, this countertop works well in the space. It also keeps the kitchen from being too dark and cold. If you want to add a bit of warmth to your kitchen, you can't go wrong with a butcher block countertop, as this home shows us.
3. Artisan Kitchen in Upstate New York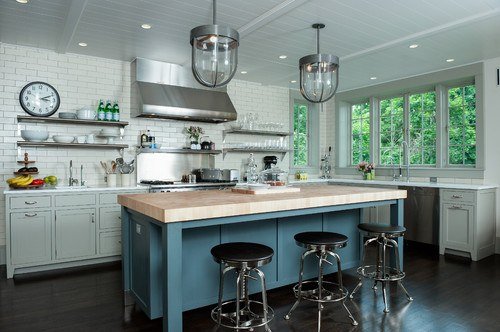 Contemporary Kitchen by Chappaqua Architects & Building Designers Fivecat Studio | Architecture
This contemporary kitchen design uses butcher countertops in a stunning way. Mixing the industrial with a hint of traditional design, the colors at play here are set off by the butcher block countertop that strikes the balance between the two designs. The maple butcher block countertops keep the steel and chrome elements from creating a heavy commercial kitchen vibe, and instead, the kitchen is warm and welcoming.
4. Electic Vintage Kitchen in Portland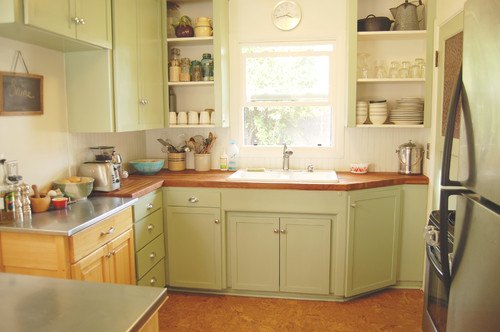 Eclectic Kitchen by Portland Media & Bloggers Lola Nova
A butcher block works in kitchens of all sizes, including this charming sunny spot in Portland, Oregon. The vintage motif of cabinetry and flooring suits a butcher block countertop, and even matches the one stainless steel appliance. Putting the countertop here with cork floors was a genius decision.
5. Warm Contemporary Kitchen in Seattle
Contemporary Kitchen by Seattle Cabinets & Cabinetry Warmington & North
Some homeowners like their butcher block to match the cabinets exactly, which is what makes this kitchen so elegant. The best thing about this countertop material is the way it can work with any color, from the muted to the bright, like this yellow. It just sits waiting for the homeowner to create delicious meals while the family is gathered around.
6. Vintage Meets Modern in German Kitchen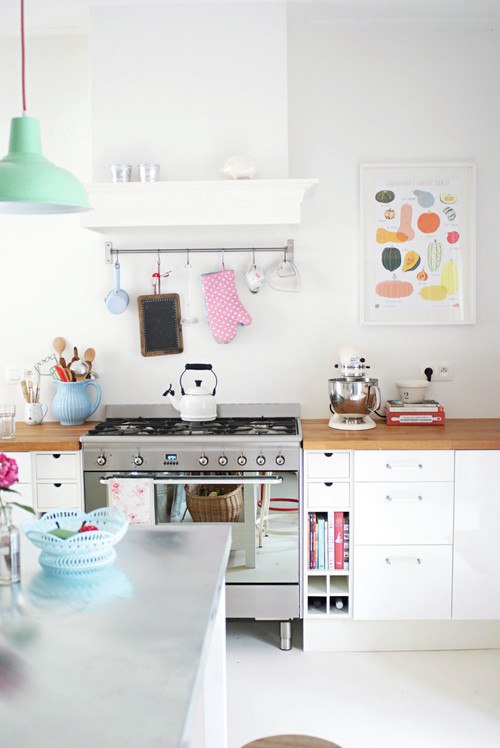 Eclectic Kitchen by Other Metro Media & Bloggers Callwey
Bright, white, and yet not stark, this German kitchen uses a butcher block set against stainless steel oven and white cabinets. The three elements of wood, white and metal are simple yet elegant. These choices allow the quirky appliances and accessories, like the light shade, colander, and oven mitt, to stand out. The result is a kitchen that is pleasing to the eye and not overly fussy.
7. Traditional Kitchen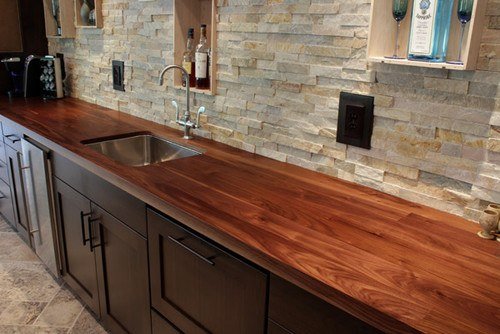 Contemporary Kitchen by Scottdale Tile, Stone & Countertops J. Aaron Custom Wood Countertops
A beautifully varnished butcher block countertop can be used to evoke a traditional kitchen look without seeming dated. In this kitchen, the designer used a walnut butcher block countertop that feels both old-world and contemporary. The stone backsplash would be appropriate in any Italian farmhouse, while the dark stained and clean lines of the cabinets are all about the modern.
8. Texture and Tradition in Portland Kitchen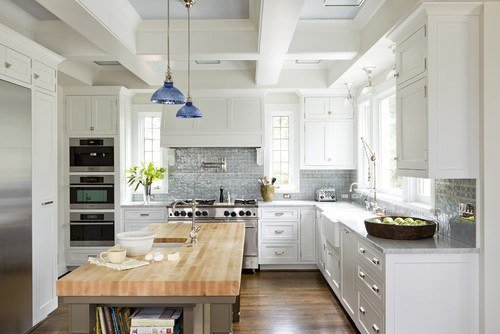 Traditional Kitchen by Lake Oswego Interior Designers & Decorators Jenny Baines, Jennifer Baines Interiors
Many homeowners love to feature a butcher block countertop as part of their kitchen's island. This is a great way to incorporate more texture in a kitchen, which is what these Portland homeowners did in their traditional kitchen. The cabinets are uniformly white, but what draws the eye is the glossy blue grey backsplash and butcher block island. The design also incorporates blue glass lights and appliances that are stainless steel but not ostentatious. Here the butcher block is part of a perfectly executed layering of textures and color.
9. Craftsman Kitchen in Los Angeles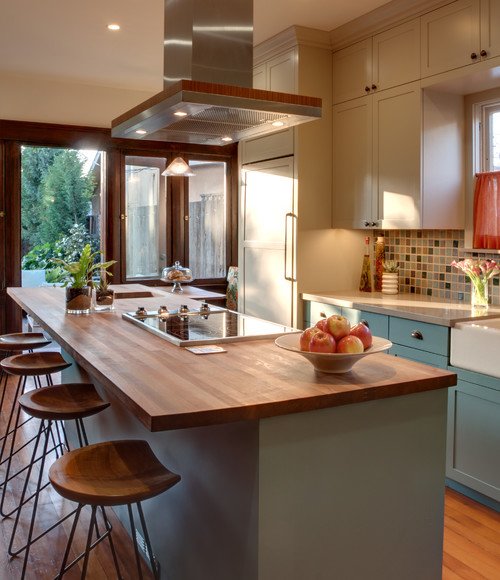 Traditional Kitchen by Santa Monica Design-Build Firms Synthesis Inc.
This Los Angeles homeowner used butcher block as a perfect complement to his craftsman style home. Craftsman style homes were inspired by the Arts and Crafts movement and favor detailed exteriors and open, clean lines on the interior. In this kitchen, white is passed over in favor of earthy colors like green and grey, giving the home a connection to the natural world. The butcher block countertop anchors the kitchen in nature, while the teak stools add to the overall look.
10. Contemporary Sleek Kitchen in New York City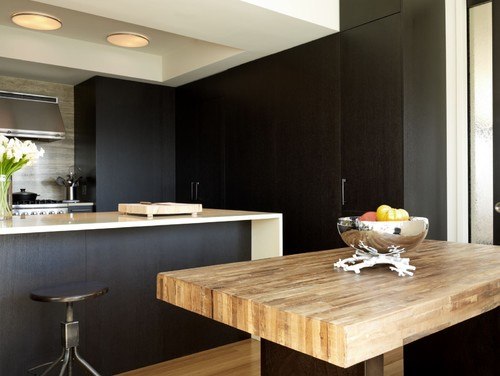 Contemporary Kitchen by New York Architects & Building Designers Incorporated
This Riverhouse kitchen in New York City is an unabashed celebration of all things modern. Rather than using white as the predominant color, the homeowners chose a matte black for the cabinets. The butcher block countertop is weathered white oak that looks as if it has seen the inside of more than one kitchen. Making the butcher block island the focal point gives changes our idea of what is modern. The stainless steel bowl is a nice touch as it reflects the butcher block wood, adding visual interest.
Have you decided to incorporate a beautiful butcher block countertop into your home kitchen? As the examples above show us, you can match any style or layout to fit this versatile and useful countertop option. From walnut to cedar, butcher block remains a top popular countertop choice.
Share This!