Hot Tea Urns
Browse through our selection of commercial hot tea dispensers & hot tea urns!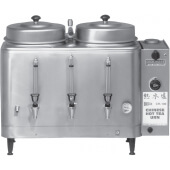 Grindmaster CH100N
Twin 3 Gallon Automatic Chinese Hot Tea Urn
Retail Price:
$2,398.55 /ea
Free Shipping
Brew and dispense piping hot tea at perfect serving temperature with one of our hot tea urns. Featuring products in a variety of sizes in both single and twin configurations from top quality brands at the most competitive prices available. Check out our selection today to find the perfect fit for your needs today! Anyone running a modern hospitality business will know the importance of having a good cup of tea on offer. While tea might have caused more than its fair share of arguments in the past, it's a drink renowned for those who want to celebrate friendship and togetherness in equal measure. So, what better item to invest in than a hot tea urn to help make sure you can give everyone who comes along that celebratory drink to enjoy? With the stunning hot tea urns that we have here at GoFoodservice, you should find it ridiculously simple to put together the best possible quality of tea service. Hot tea urns make it easy for you to enjoy a far more impressive experience, reducing the amount of time that you need to make a quality tea – and, more importantly, a consistent tea.
Instead of having one cup too strong, one too weak, you can use hot tea urns to make sure there is a greater balance in the taste of your tea. Believe us when we say that this is so important! Add in the fact that each of our hot tea urns will make sure you can keep the tea nice and fresh, and it's so easy to see why so many people turn to hot tea urns. With both single and twin configuration options for you to enjoy as well as professional brands such as Cecilware, you can get a competitive rate on a must-have for any hospitality business. Not sure which hot tea urn would make the best fit for your business? Then all that you need to do is let us know. We can make it much easier for you to put together a more comfortable working experience by reducing the time it takes to put together the perfect cuppa!