Uncommon Threads Chef Apparel, Chef Clothing, & Accessories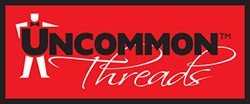 For chef clothing that offers both style and function look no further than Uncommon Threads. Their selection of clothing includes the essentials such as chef coats, cook shirts, chef pants, and cooking aprons fit for any environment. Their lines of chef clothing will help give the employees of your restaurant, diner, or cafe a more professional look that will stand out among the hustle and bustle of your busy business.
Chef apparel doesn't have to be boring! Uncommon Threads chef apparel comes in a variety of sizes, styles, and colors giving you and your staff the options you desire. From chef pants and cook shirts, to chef hats and coats, Uncommon Threads chef apparel is made from materials that can withstand the demands of a busy kitchen while still being easy to wash. Uncommon Threads chef apparel is durable enough to protect your clothing and offer a layer of safety while cooking but comfortable enough to allow wearers to move freely and work unhindered.
From traditional chef clothing to more trendy styles, Uncommon Threads is sure to have a style that you'll love.
Uncommon Threads Best Sellers
Uncommon Threads Categories