The Essential Kitchen Equipment List for Getting Started with a New Commercial Kitchen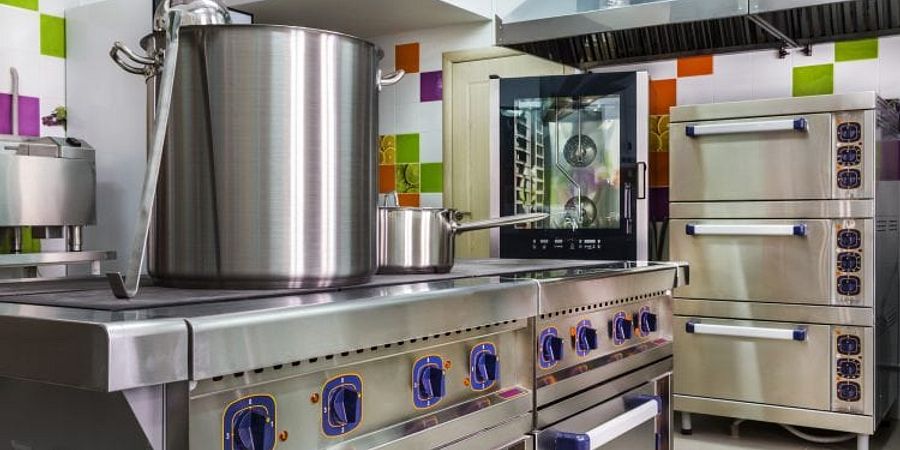 The kitchen is the backbone of every restaurant. Its layout can make or break how well an operation runs.
Why not invest in creating the perfect commercial kitchen?
Your kitchen equipment should fit the size and space available for cooking. It should stand up to the wear and tear of industrial use. And it should allow for easy cleaning and use by many cooks and servers.
It's important, as a restaurant owner, that you check out all the options. And that your new kitchen reflects the quality and style of the food you plan to prepare.
Here's an essential kitchen equipment list to get you started with your new commercial kitchen.
Griddles & Ranges
The type of cooking surface you choose should reflect the type of food you will serve. Most of your cooking happens on either a griddle or a range. And there are many options to choose from.
Griddles
If you're planning to cook food on a smooth surface, you'll need a good griddle. Commercial griddles come in both gas and electric, depending on your personal preferences.
The size of the griddle depends on how much food you plan to serve at your restaurant. If you're outfitting a small food truck, you may only need a small griddle. If your restaurant seats 200 guests, you might need several large griddles to keep up.
Breakfast food is always best cooked on a griddle. They allow for the perfect, even heating for eggs and pancakes. And they're great for cooking burgers, fajitas, and sauteing vegetables.
Ranges
If you plan to use pan-searing techniques to cook your food, you'll need a top-notch commercial range. Most ranges come with an oven attached, but you can get standalone ranges that sit on top of a counter.
Like griddles, ranges come in gas and electric varieties. A gas range gives you an open flame to cook over. Gas burners make changing the heat setting quick and easy.
Some cooks prefer to work with an electric range. These come in a variety of smooth designs that are easier to clean than a gas range top.
Ovens & Warmers
Commercial ovens come in as many varieties as there are things to cook in them. Again, your choice of oven depends on your preferences. And you'll have the option of gas or electric with your warmers as well.
Convection ovens surround the food with hot air, for more controlled cooking. If you plan to bake, you might want to invest in convection. And certain ovens house several baking decks to cook more at once.
You can get ovens that have a warmer included. Or you can choose to invest in separate warmers to keep food hot while waiting for a buffet or delivery.
And there are specialty ovens, such as pizza ovens or high-speed cook ovens, that might work better for your type of cooking. You may even need more than one type of oven, including a microwave oven.
Fryer
Most commercial kitchens require a commercial fryer. They come in different shapes and sizes. You can choose between models that stand on the floor or models that sit on a countertop.
Commercial fryers heat up fast and provide even cooking. They stand up to industrial use. And are better for working with large batches of fried foods than using fry oil on a range.
Storage: Cold & Pantry
Storage is as important as cooking. To properly manage kitchen inventory, you need the right type of storage.
Refrigerators and freezers come in reach-in, walk-in, and under-counter sizes. You'll need a combination of these sizes to make sure your kitchen works well.
For example, you might use a walk-in combination for most of your storage. And an under-counter option for immediate use in the kitchen.
You also want to make sure you have the right amount of quality commercial shelving. This is important to store dry and room-temperature food. And also to store your prep equipment and utensils.
Prep Equipment
The type of prep equipment you need depends on the type of food you'll cook. But some of the main types of prep equipment that every kitchen needs are:
Knives
Pots and pans
Prep tables and countertops
Warming pans
Bakeware
Also, you'll need some specialty prep appliances. Examples include french fry cutters, meat grinders, and food processors.
Sinks & Dishwashers
Cleaning up is almost as important as preparing the food. You can't keep your kitchen clean without the right tools.
Install sinks according to your local health department requirements. Most say you need a three-compartment, industrial sink to prevent contamination. And a commercial dishwasher is necessary to sanitize dishes.
Commercial dishwashers come in single and multi-rack varieties. You can also get a conveyor washer for heavier loads. Or you can get a compact, under-counter version for smaller loads.
Safety Equipment
Last but not least is safety equipment. Again, check with your local health authorities to find out what you need.
A range hood with a fan is necessary to remove heat, smoke, and grease from the air. Fire extinguishers and a fire suppression system are requirements in most areas. It's a good idea to have first aid kits available around the kitchen.
Floor mats are essential to prevent slips. You'll also want a secure place, like a knife magnet, to hold knives and other sharp, metal objects. And sanitary equipment like mops, brooms, and cleaning buckets are essential.
Your Commercial Kitchen Equipment List
We've covered the major areas you should have on your commercial kitchen equipment list.
To review, you want to invest most of your time in choosing your heating and cooking equipment. Make sure it fits the size of your space and the style of your menu. This is what makes your menu jump off the page!
Don't neglect storage space, both cold and room temperature. Prep equipment is almost as important as cooking equipment. Cleaning and safety equipment is essential to keep your kitchen safe and in compliance.
Are you ready to get to work on your new kitchen? Whether it's a remodel or a new build, we're here to help you succeed! Contact us to find out more about how our experienced staff can help you.
Share This!