Commercial Cooking Without a Hood: The Equipment You Need Instead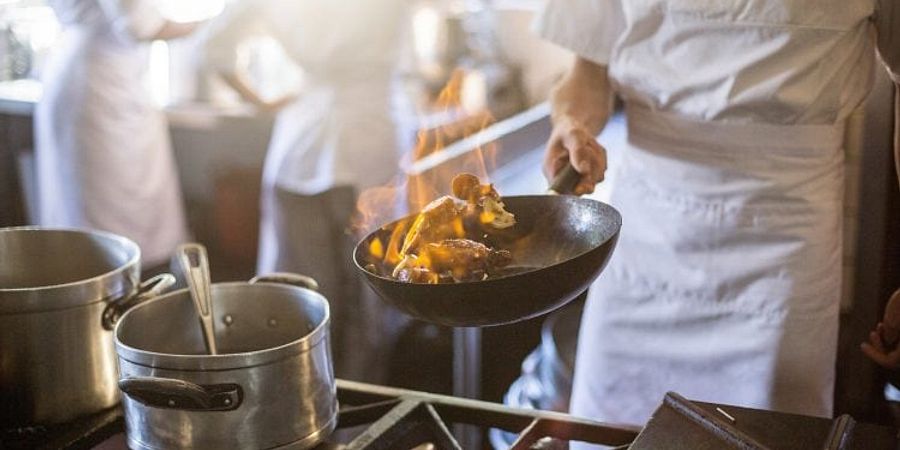 Cooking with commercial restaurant equipment without an exhaust hood in a commercial environment can be difficult and is often warned against due to health codes and safety concerns; however difficult it may be to achieve an environment without large exhaust systems many restaurant owners find themselves in a situation where they have no ventilation and are forced to find an alternative. This may be due to a variety of factors:
Commercial ventilation is a costly undertaking. Buildings and spaces being renovated into kitchen areas often do not have commercial exhaust hoods installed. Commercial hood installation can be expected to run well over $10,000.
Space may also be an issue. Even with funds available for installation, for strip mall locations, small eateries located at the base of buildings, basements, and historical buildings, there is often little room to fit the equipment – let alone a commercial exhaust hood, which by code must be larger than the equipment it is responsible for venting.
However, before you try dodging health codes and possibly injuring your staff or patrons, check out these alternatives.
Ventless Cooking
Ventless cooking has been in increased demand as ghost kitchens, small eateries, and startups still continue to grow. Restaurants and food prep companies are known to operate by using only one or two large pieces of equipment which can perform many different cooking operations, such as rapid cooking ovens and convection ovens. Major manufacturers have added ductless exhaust to their equipment so that these pieces can be used practically anywhere, as long as the proper safety measures have been taken.
Since this type of equipment can be responsible for providing food for an entire kitchen, it does come with a higher price tag. However, the ROI (Return of Investment) is typically quite quick. You can check out our selection of these types of equipment below.
Food Prep
With the increasing popularity of food trucks, the need for food prep has also risen in demand. A food truck is a great example of a kitchen space that is difficult to meet health code requirements for operating a commercial kitchen. Companies that operate out of a food truck or by other mobile methods will usually rent a kitchen or use a "Ghost Kitchen" (a kitchen whose only purpose is to provide cooked products for another business) to precook their food product. Then the cooked product may be warmed at the point of serving.
Warming equipment, due to its lower wattage rating, may sometimes be acceptable to operate without a commercial exhaust system in place. Due to the demand of serving the public in this fashion, ghost kitchens and rental spaces are becoming more reasonably priced, and are frequently shared between several businesses to cut costs such as rent.
Ventless Hood Systems
If the above solutions don't work but you're still needing an alternative to having a commercial exhaust hood, then you might want to look into purchasing a ventless hood system. Yes, there is an option to have a ventless hood that will actually remove excess exhaust and are will keep your commercial kitchen up-to-code. Equipex ventless hood systems are generally better suited to remove exhaust from smaller cooking equipment whereas the Wells ventless hood systems are a much larger option but can accommodate items such as deep fryers, griddles, grills, charbroilers, and many other choices of heavy-duty cooking equipment! It's highly suggested to have the make and model of your cooking equipment ready and with it, we can help navigate you in the right direction.
Things to Consider When Presenting Your Equipment
To make it easier to present your kitchen plan to your local health department, consider these questions which are commonly related to your equipment being inspected.
What voltage/wattage is my electric equipment?
What is the BTU rating of my gas equipment?

Do I have a built-in exhaust for my equipment?

Is my kitchen area following other health code guidelines such as tile flooring?

Do I have fire suppression in place?
Consult Your Local Health Department
Whichever method you plan on using in order to avoid the use of commercial exhaust, ALWAYS consult your local health department. They will be able to give you the necessary guidelines and help you avoid potentially hazardous situations. Health codes vary from location to location, so it is necessary that you speak with the health department local to you.
For additional reading, both the NFPA (National Fire Protection Association) and the IMC (International Mechanical Code) have codes surrounding the necessity of an exhaust or ventilation system. There are also many other organizations, some depending on region, that enforce the need for exhaust and ventilation systems. Notably, this List of NFPA Codes & Standards is likely the most quoted standard… but do your research and ask a professional.
GoFoodservice is here to help promote and grow your business, so please contact us so we can point you in the right direction. Happy and healthy cooking!
Share This!